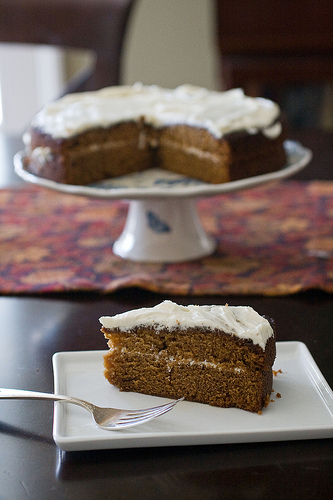 Last week was my birthday, so I baked myself a birthday cake. I do realize how pathetic that sounds, but baking my own birthday cake is actually something I like to do — I get exactly what I want, I get to bake, which I actually enjoy, and I can milk the pity for all it's worth (I had to BAKE MY OWN birthday cake!) (and lest you still feel sorry for me, my mother also baked me a birthday cake for the family celebration we had a few days after my birthday.)
I do love all kinds of cakes, but after making both a yellow cake with chocolate frosting AND strawberry cupcakes for the Nuni's birthday, I wanted something a little more adult for mine. Something a little more complex. Something that wouldn't be devoured by a little person within minutes of baking. And that something was gingerbread.
Despite promising beginnings, the Nuni has not seen the light on gingerbread, which she currently deems too spicy, which makes it perfect for my evil plan, er, birthday cake. My love of gingerbread is well-documented — I've already written about this classic gingerbread and this chocolate gingerbread. For this cake I wanted something a little lighter and cakier, and I found it, once again, in Laurie Colwin's More Home Cooking
. (Colwin reveres gingerbread almost as much as I do, and if you haven't yet read this book or her other one, Home Cooking
, then you should read them. Right now. I'm not kidding. Stop reading this and go get your hands on those books). This gingerbread, titled "Damp Gingerbread", which Colwin adapts from Delia Smith, the British Martha Stewart (and another featured recipe writer on The Domestic Front) is sweeter and less dense than the original gingerbread I posted, and has the added bonus of being flavored not with molasses, but with Lyle's Golden Syrup
, which is a British caramelized sugar syrup that tastes like home and is addictive like crack (and if you know of a cheaper source for this stuff, please let me know. It's DIVINE on oatmeal).
Much as I love gingerbread all by its lonesome, a cake isn't a birthday cake for reals until you add frosting. And in the "adult" theme, and the "British" theme, I decided to flavor my icing, a basic and classic buttercream, with scotch whisky, which may just be the best idea I've had all year. Like the classic English brandy butter (traditionally served with Christmas plum pudding) only with a deeper, more complex and slightly smoky flavor. The whisky cuts the sweetness that can often mar buttercream, and at the same time rounds it out, making it mellower and more lasting. And the whole shebang complements the spicy richness of the gingerbread.
Happy birthday to me. I'm not sharing.

Gingerbread Cake with Whisky Frosting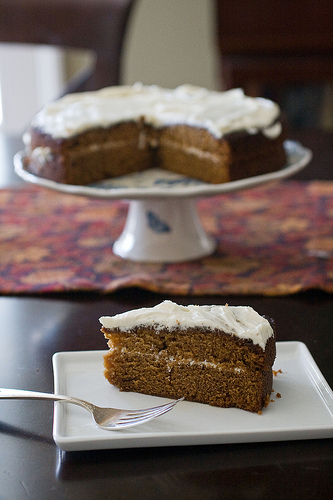 Ingredients
For Cake:
1 can Lyle's Golden Syrup (about 16 oz. or 1.5 cups)
1 stick butter (8 Tablespoons)
2 cups flour
1 tsp. salt
1.5 tsp. baking soda
1 Tablespoon ground ginger
1 teaspoon cinnamon
½ teaspoon allspice
1 egg, beaten
1 cup milk
For whisky buttercream:
½ cup butter
2 cups powdered sugar, sifted
3 Tablespoons scotch whisky
Instructions
Preheat the oven to 350 degrees F. Line the bottom of a 9 inch cake pan (2 inches deep) with parchment and spray the sides with baking spray.
Melt butter and syrup together.
For Cake:
Into a bowl mix flour, salt, syrup and spices. Add the syrup and butter mixture and mix well.
Add egg and milk, and stir until the mixture is combined.
Pour into the cake pan and bake at 350 for 45-50 minutes -- it's OK if the cake still seems a bit damp in the center. Let cool in the pan for 10 minutes, then turn out and cool on a rack.
Using a serrated knife, cut the cake in half horizontally. Fill and top with whisky buttercream.
For whisky buttercream:
Combine all ingredients and mix until fluffy.
Notes
Cake a Laurie Colwin's More Home Cooking