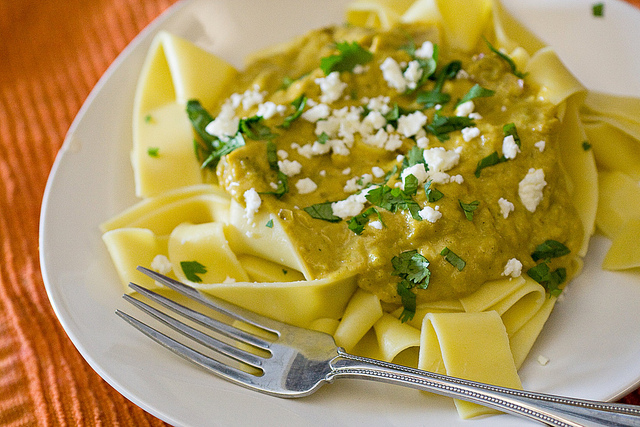 It's October — the nights are getting cold, the leaves are turning color (on the three trees in Los Angeles that actually change color) and pumpkins are sprouting in our neighbor's yards like mushrooms. When I do my weekly shopping, those orange cans of pumpkin puree call to me, with their promises of afternoons in the kitchen, the air redolent with the scent of cinnamon and cloves, as we turn out pumpkin pie, pumpkin bread, pumpkin muffins, pumpkin cake. But inevitably, I succumb to the lure of seasonality and planned scarcity, and overbuy on canned pumpkin. And man cannot live on bread (and pie, and cake, and muffins) alone. So I start to search for easy and savory pumpkin recipes — ways to enjoy the season without overdosing on sweet treats.
This savory pumpkin chile sauce is a perfect use for all that pumpkin. The oldest pumpkin seeds were found in Mexico, and the flavors of Mexican cuisine — the mellow heat of chiles and the smoothness of cream — combine beautifully with the sweet pumpkin. I served it on pappardelle, my favorite pasta — the wide ribbons provide plenty of surface area for a chunky and flavorful sauce to cling to. But this would be equally good on grilled chicken breasts or as a sauce for very rich enchiladas.
It's easy, too — the hardest part is roasting the chiles, which isn't very hard at all. You just stick them over a gas flame (or under a broiler) until the skin is singed and leprous, let them steam for a few minutes wrapped in a paper towel, then rub off the black skin until the roasted chile emerges like a phoenix from the ashes. It's then simple to chop them up, saute them with a little onions and garlic, chicken broth and pumpkin, then add the sweet richness of cream. The poblano chiles are extremely mild (even the Nuni, who thinks gingerbread is too spicy, liked this sauce) and they add a green and toasty flavor more than any piquancy.

Forget pie — there's a new pumpkin in town.

Pasta with Pumpkin Poblano Chile Sauce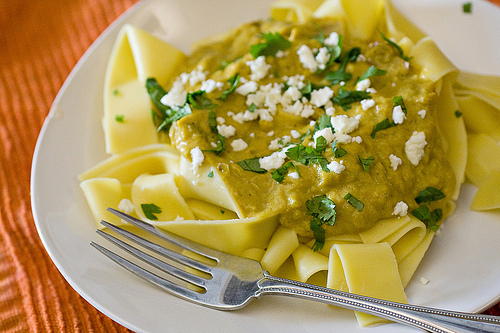 Ingredients
2 poblano chiles
1 T butter
1 T neutral oil (I used grapeseed, but olive oil would be just fine, too)
1 medium onion, chopped
1 clove garlic
½ c. chicken or vegtable broth
1 c. pumpkin puree
⅓ c. cream
Salt and pepper, to taste
Pappardelle to serve, and cilantro and feta cheese to garnish
Instructions
On a gas burner or under the broiler, roast the chiles until the skin is blackened and blistered.
Wrap loosely in a paper towel, let steam for a minute or two, then rub off the blackened skin.
Roughly chop the roasted chiles, discarding the stem and the seeds.
In a large saucepan, heat the oil and butter together until the butter is melted, then add the onion and saute until translucent, about 3 minutes. Add the minced garlic and the chicken broth and cook over low heat until the broth is absorbed and the onions are soft, about 5 minutes.
Add the chopped chiles and the pumpkin puree. Cook for about two minutes, until the pumpkin is fragrant. Add the cream, and puree using a hand blender or transfer to a regular blender or cuisinart. Season to taste with salt and pepper.
Serve with pappardelle, garnished with chopped cilantro and crumbled feta cheese.