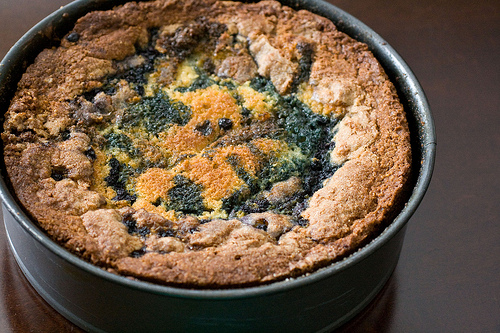 Mother's Day is on my mind this week. I am replete with motherhood. My belly is large with motherhood. I wake up in the morning with my fingers swollen with motherhood. My feet are so full of motherhood that my shoes don't fit. My hips are aching with motherhood. A day? Ha! I deserve at least a week of celebration. Or a month.
Check back in two weeks, when all this motherhood will be external rather than internal, but I'm not quite up to the mother's day celebration this year. So instead of making brunch, I made reservations. The Nuni, my mom and I had a lovely girl's tea at the historic Langham Hotel right here in Pasadena. The view was lovely, the service gracious, and the sandwiches and pastries were delicious. We ignored the fact that our homemade scones are better. I told Ken that he is in charge of dinner on Mother's day – we can go out, we can get takeout, he can cook — but I don't want to be responsible for planning, executing or cleaning up.
If some of you are less lazy encumbered than I am, this blueberry cornmeal cake would be an excellent treat for Mother's Day. The recipe is supposedly one from Huckleberry, which is one of the best bakeries in LA, and it's a lovely crunchy, fruity, not too sweet cake. If you're into mother's day breakfast or brunch, this would be a great addition – it's not too rich or decadent for morning. It would also be a standout at afternoon tea, or if you're cooking dinner for the mother or mothers in your life, it would be excellent with a bit of ice cream (vanilla would work, or I'm thinking a lovely buttermilk sorbet if you want to get ambitious.)
Huckleberry Blueberry Cornmeal Cake and Mother's Day
Ingredients
¾ c plus 3 T sugar, divided
10 T butter
1½ tsps salt
6 T vegetable oil
2 large eggs
1 T vanilla extract
1 tsp honey
1⅓ c. flour
⅔ c. yellow cornmeal
2 tsps baking powder
2 tsps baking soda
1 c ricotta cheese
⅓ c plain yogurt
3 cups fresh or frozen blueberries
Instructions
Preheat oven to 325.
Spray 10-inch-diameter springform pan with 2¾-inch-high sides with nonstick spray.
Beat butter, ¾ c. plus 2 T sugar and salt in a large bowl until the mixture is pale and creamy. In a separate cup, whisk together the eggs, oil, vanilla and honey, then gradually add that mixture to the butter mixture until blended. Add flour, cornmeal, baking powder and baking soda, and beat until just blended. Add ricotta and yogurt and beat on low speed until just combined.
Prepare a 10 inch springform pan with flour and oil spray. Spoon in half the batter, scatter about ½ the blueberries over the surface of the batter. Spoon the remaining batter over the blueberries, add the remaining blueberries over the batter, then sprinkle the last 1 T sugar over the blueberries.
Bake about an hour and fifteen minutes, or until the top is golden and a cake tester comes out reasonably clean (given the blueberry juice). Let cool completely and run a knife around the edge of the pan before opening.