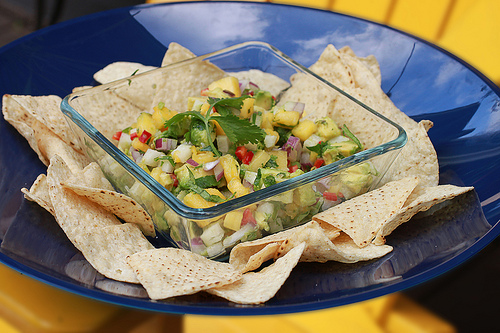 Cinco de Mayo is one of those strange holidays where the original meaning (Battle against the French? Ring a bell?) is completely forgotten by most of the people celebrating. I could be wrong, but I would hazard a guess that for many Americans, Cinco de Mayo is just an excuse to indulge in tacos, burritos and nachos, preferably washed down with some cheap beer or cheaper margaritas.
As an Angeleno, I don't need an annual holiday as an excuse to eat Mexican food. We have a vibrant and thriving Mexican and Mexican-American community, and, while tacos and burritos are a regular part of life, I also know that the cuisine goes far beyond them. Mexican cuisine, like any other cuisine, is a changing entity, open to improvisation and inspiration.
This salsa is the perfect example. I make no pretenses that this is based on some autentico salsa especiale I tasted in a tiny cafe in Zihuatanejo. In fact, this recipe is based entirely on a pineapple I had in my refrigerator that was quickly getting a little too ripe (shopping with a 4 year old means you come home with lots of produce and few plans). But it makes use of the Mexican flavors and produce I find all over southern California — the sweet acidity of pineapple matched by savory onions, chiles and cilantro, all mellowed by avocado and enlivened with the crunch of jicama. (If you've never had jicama, it's a great ingredient. Resembling a large pale brown turnip, it's a juicy root vegetable that's very faintly sweet and has a terrific crunch not unlike a water chestnut.)

However you're celebrating your Cinco de Mayo, this salsa would be a great, healthy addition to the table. It can be served with tortilla chips (and cheap margaritas), but it also makes a great foil to grilled chicken or fish (and cheap margaritas).
The salsa does take some chopping, but I'd get out the knife instead of the food processor, and do it by hand. The pieces will keep more texture, and even with all the knife work, it still comes together quickly for such a flavorful dish.

Pineapple Avocado Salsa with Jicama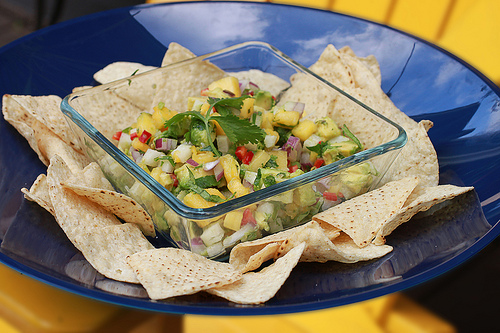 Ingredients
½ jicama, peeled
¼ ripe pineapple, peeled (if the pineapple is ripe enough, I keep the core, but I'm weird like that.)
¼ red onion
1-2 red jalapenos (depending on how hot the jalapeno is, and how hot you like your salsa)
4 T chopped cilantro
Juice ½ lime
1 avocado
Salt
Instructions
Finely dice the jicama, pineapple and jalapenos, add to a bowl. Remove the seeds from the jalapenos and mince the flesh, add to the bowl with the cilantro and the lime juice, toss to coat.
Cut the avocado into small cubes, and delicately toss with the rest of the salsa (you don't want to turn the avocado into total mush.) Sprinkle with salt to taste, and serve.