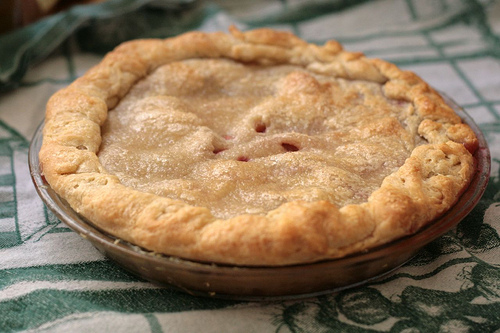 Is there anything more wholesome than pie? The very word brings a smile to one's face, and it's associated with all sorts of pleasant things — someone who is sweet as pie (or a sweetie pie) may wish for their pie in the sky which may be easy as pie to get or as American as apple pie. In the eternal debate that rages between cake and pie, pie is eternally the winner, being both less serious and less frivolous than that cake frippery. Liking pie is almost a moral imperative. And yet … I don't. Or at least I didn't.
The problem with pie is nearly always in the crust. Crusts in pies that aren't homemade is nearly always somewhat tough because it has to stand up to storage and handling. And homemade is hard. Those premade pie crusts have a funny taste or a greasy mouthfeel (though I will recommend Trader Joe's brand frozen pie crusts in a pinch). And making it from scratch is just fraught — there's all that nonsense about cold hands and whether to rub in the fat or cut it in or use a food processor or NEVER USE A FOOD PROCESSOR or only use lard or only use crisco and the whole thing is so nervewracking that your hands are sweating buckets and OH NO YOU'VE JUST RUINED YOUR PIE CRUST. IT WILL NEVER BE TENDER AND FLAKY AGAIN. Or if by some miracle you manage to make a pie crust that has flaky possibilities then you have to roll it out, and it cracks and sticks and then you have to worry about patching holes because IF YOU HANDLE IT TOO MUCH YOU WILL HAVE RUINED YOUR PIE CRUST AND IT WILL NEVER BE TENDER AND FLAKY AGAIN.
No thanks, I'll just sit over in this corner with my cake, thank you very much.


However, because I love my faithful readers so much (and especially those faithful readers who are still reading despite my somewhat sporadic posting schedule of late — I have no excuse other than lack of inspiration, so if you see my muse can you send her over?) I will give you the recipe for my super secret foolproof crust. It is always tender, it is always flaky, you can handle it as much as you want, and oh, by the way — it's a dream to roll out. Practically elastic. The only problem is that this crust, not being a commercial crust, does not hold up particularly well to handling and storage. It does, in fact, get a wee bit soggy. Plan on baking this pie crust as close as possible to when you plan to eat this pie crust. At least if you have a luscious, juicy, fruit filling.
Ah yes, the fruit filling. Well, I have seen apple pies galore, and cherry pies, and peach pies, blueberry pies, and gooseberry pies. I have seen pumpkin pies and coconut cream pies and custard pies and mincemeat pies. But the only place I have seen a plum pie is in the pages of one of my daughter's favorite books, which I bought for her because it was a favorite of my childhood as well. It is called "Each Peach Pear Plum". You should read it. It's wonderful. Because I am of both a contrary and a literary bent, I decided to bring to life the plum pie from the pages of this wonderful book.
And here's the thing: plum pie is wonderful. The plums are lovely and tart with a delightful flavorful tang. My husband described the pie as a cross between rhubarb and cherry but better than either. This is now his favorite dessert. And he, like all right-thinking folks, is a pie-lover. It's also beautiful, with a lovely pinky-red color from the plum skins (don't skin your plums, because one, it is a pain, and two, they will be mush).
So there you have it. Perfectly pleasing pie, easy to execute. Or as easy as pie can be. Which is, if you believe the sayings, very easy indeed.
Plum Pie in a Sour Cream Crust
Ingredients
For the crust:
1 c. (2 sticks) (8 oz.) softened butter
1 c. sour cream
2 c. flour
1 egg white
sugar
For the filling:
2 lbs plums, pits removed and sliced (do this over a bowl so you can catch the juice)
1 c. sugar (more or less, depending on sweetness of plums)
zest of 1 lemon
¼ c. cornstarch
Instructions
Make the dough:
Mix butter and sour cream into flour until thoroughly blended. Form into two discs and chill overnight or until firm.
To make filling:
Combine all filling ingredients. Toss until combined.
To assemble pie:
Preheat oven to 375.
Roll out one disc of chilled dough on a floured surface (for rolling out instructions, see here but you don't really need to use the parchment paper with this dough) to about ¼ inch thick, and line 9" pie pan with the crust. Brush inside of pie crust with beaten egg white.
Roll out second disc, cut into strips to make a lattice. Fill the pie with the filling (see below), and arrange the strips to form a lattice. Roll edges to form a rim, pinch together, brush the top with egg white, sprinkle sugar over the crust and bake at 375 degrees for 1 hour.
Update! Upon making again, I found that this pie works best if a) you roll the dough on the thick side (1/4 inch or so); b) you brush the bottom crust with egg white before adding the plums and c) you bake with a lattice top.