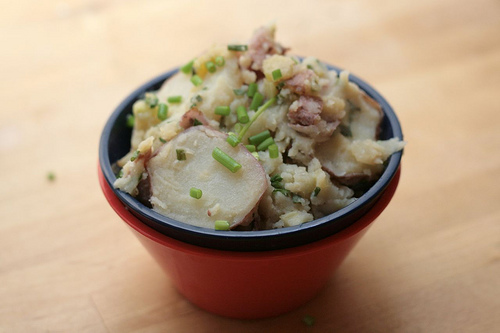 The Nuni has been very taken with picnics lately. It started last weekend when we were at the Huntington Library. After a hard hour of playing in the bubble fountains and the rainbow tunnel of the children's garden, we spread a towel on the grass to dry off. Being toddler parents who are never without snack food, we broke out the water bottles and the dried apples. Nuni looked happily around and said, "Mama! Dada! Nuni! Family! PICNIC!"
Since then she has applied the term "picnic" to every nontraditional eating situation in which we find ourselves, and let me tell you, they are not infrequent. Morning coffee in bed is a picnic, so are takeout ribs eaten on the couch and dinner on the deck behind Nonna and Pappi's house. Of course, the Nuni may be on to something here. Calling a meal a picnic makes it less formal and more exciting — an adventure in the making.

Whether your picnic is in the dining room or at the beach, this potato salad would be a marvelous addition. It combines the earthiness of potatoes and truffles (in the form of truffle oil), and adds salty prosciutto and sharp chives. Because its flavor is less acidic than traditional potato salads, its an excellent accompaniment to almost any meats or seafood. Plus, the base is chicken broth, instead of mayonnaise, which means it's much less likely to spoil in the unrefrigerated conditions of a picnic expedition (though I wouldn't recommend just leaving it out for days at a time).
It's also a touch more elegant than your standard potato salad, worthy of the really special picnics — dinner before the Hollywood Bowl, or opera in the park, or lunch on a steamship (does anyone take steamships any more? Doesn't the word just reek of glamour and adventure?) or family dinner on the sofa.

Potato Salad with Prosciutto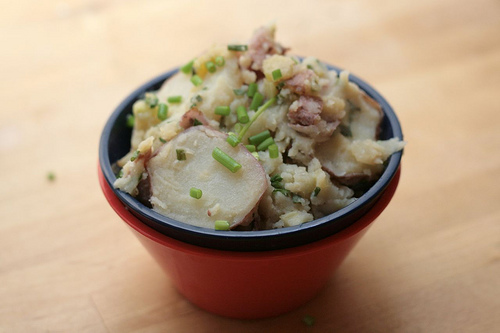 Ingredients
2 lbs red bliss potatoes, sliced
2.5 cups chicken broth
¼ c. red wine vinegar
2 T butter
3 oz. prosciutto or similar cured ham (in the pictures I used a German Westphalian ham), chopped
1 c. chopped celery
½ c. chopped sweet onion
½ c. chopped chives
1-2 T truffle oil
1 T lemon juice
Instructions
Place potatoes in saucepan with chicken broth. Bring to a boil, then reduce heat to medium and cook, partially covered, until potatoes are tender, about 6 minutes. Drain potatoes or lift them out with a slotted spoon, reserving broth. Return broth to same saucepan and boil until reduced to ⅓ cup, about 13 minutes. Place potatoes into a large bowl and pour reduced broth over potatoes, toss to coat. Add vinegar and toss to coat.
Melt butter in a nonstick pan. Add prosciutto and sauté until crisp, about 6 minutes. Transfer prosciutto and butter from skillet to bowl with potatoes. Add celery, onion, and chives to potatoes. Gently toss to combine. Combine truffle oil and lemon juice in a small bowl, drizzle over potato salad, gently toss to coat. Season to taste with salt, pepper, and additional truffle oil, if desired. Serve at room temperature.