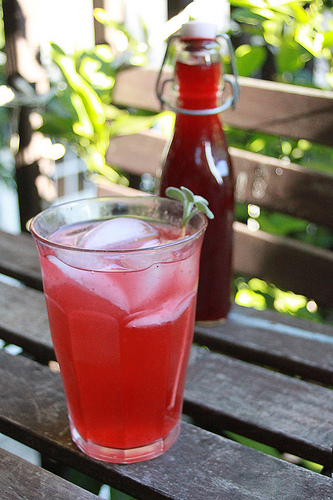 Dear readers,
I have been neglecting you. Don't feel special, though. I've been neglecting pretty much everyone and everything. It's not that babies are so demanding. His needs are fairly uncomplicated. Usually a variation of feed me change me hold me. It's more that we are still working on the concept of delayed gratification (and you know, nighttime) and if he doesn't get his needs met pretty much instantly, he gets mad. Really mad. And when he starts crying, I get frantic. I pretty much lose all ability to function until he has stopped crying ( which he does pretty quickly when he gets what he wants. ). So anything that requires specific timing, like um, cooking – isn't really happening much. Sometimes I do manage to cook, but the multistep process of 1) cooking 2) photographing what I've cooked 3) uploading photos (never mind editing) and 4) writing about it seems like it's laughably hard.
Which is not to say I never do it. Look! I made something! It helps that it's a cocktail, to soothe mama's jangled nerves (if you want to make it a mocktail, just omit the gin) and there is no timing involved.

I read an article in the LA Times recently about shrubs – basically an old way of preserving fruit by making a syrup from it mixed with vinegar. Sugar and acid are both preservatives. Shrubs are a tart sweet fruity syrup ideal for mixing with spirits or water. My curiosity was piqued, and poking around on Serious Eats led me to a shrub template. Add in some berries that were past perfect eating time (but not yet moldy!) and I decided to jump into the shrubbery.
And it was easy. I just let the fruit macerate in sugar, strained it, added vinegar and voila! A great cocktail mixer.
Now I am a vinegar fan, so this was right up my alley, but I was impressed with how well the acid from the shrub complemented the slight herbal bitterness of the gin, resulting in a smooth and refreshing cocktail. It's also great mixed into sparkling water, or to add some extra oomph to lemonade or iced tea.

Mixed Berry Shrub
Ingredients
1⅓ cups raspberries
⅔ cups blackberries
1½ cups granulated sugar
⅔ cup red wine vinegar
Instructions
Combine the fruit and sugar in a bowl, cover and leave to macerate in your refrigerator for 1-2 days. Halfway through the maceration process, mash the fruit and sugar together.
Drain the resulting syrup through a fine mesh sieve (the leftover berry pulp is great on pancakes) and mix with vinegar. Store in the refrigerator.
Try this, And I'm sure you'll get hooked on shrubs. I'm already planning my next experiment.
Juniper Bush Cocktail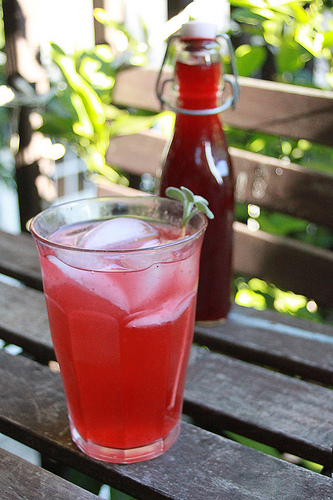 Ingredients
1 oz gin
1½ oz mixed berry shrub
Sprig sage leaves
Sparkling water
Instructions
Combine gin and shrub in a highball glass Muddle sage slightly in the bottom of The glass. Add ice and fill remainder of glass with sparkling water.