So let's say you've made your Fruitcake, thoroughly doused it in liquor, and now you want to serve it on Christmas Eve. You have bought into the joys of fruitcake, but now you want to sell it. If one is not a fruitcake convert, a bit of glaze and a few nut halves might not do it. You could top with a boiled icing of milk, sugar and butter the way my friend Alison's Australian Nana did (I'm still looking for a recipe Alison — I have to dig through my vintage cookbooks), or you could embrace your inner anglophile and give it the full on British Christmas cake treatment, which involves covering it with marzipan and fondant icing and making it look absolutely BEAUTIFUL.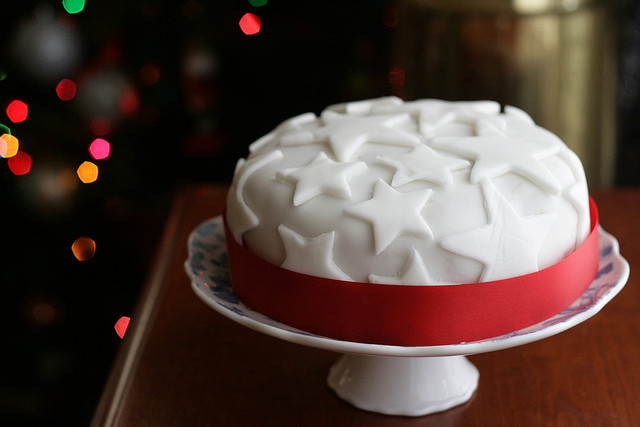 For the marzipan layer, you can use bought marzipan or the recipe below (which involves bought almond paste — commercial almond paste gets its characteristic flavor from bitter almonds and is very smooth, which is difficult to replicate at home.) The advantages to homemade are that, 1) Almond Paste and Marzipan typically cost the same, and you get 1 lb marzipan from 1/2 lb. almond paste + some inexpensive additions and 2) homemade marzipan is a little tackier, so you don't need to use anything else to stick it on the cake. If you're using store bought marzipan, which tends to be drier, you might want to brush your fruitcake with some melted and strained apricot jam before applying the marzipan.
Roll out the marzipan between two sheets of parchment, or between a silpat rolling mat and a sheet of parchment. Since marzipan tends to be very sweet, you don't want to make this layer too thick. Peel off one layer of parchment, apply to the cake, then peel off the remaining parchment, smooth the sides as much as possible, then trim the bottom.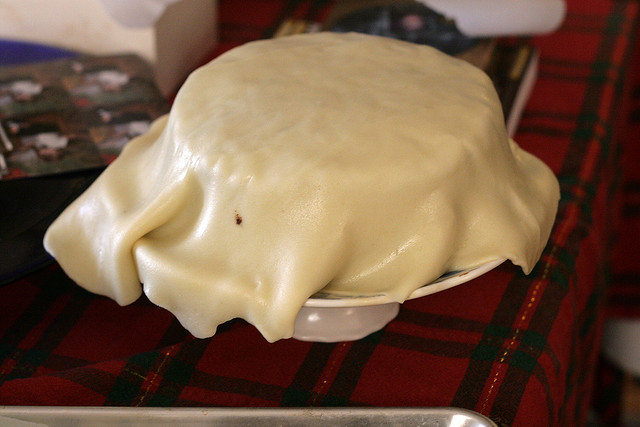 I use store bought fondant icing. You can make it (I suggest you look for a recipe in Rose Levy Beranbaum's Cake Bible) but it's a bit painstaking and requires special ingredients. If you've never worked with rolled fondant, here's what you need to know — its value is purely aesthetic. It tastes only OK (not bad, but only OK) but it looks BEEYEWTIFUL, with a lovely matte sheen. You can address this to a certain degree by flavoring the fondant with an oil based flavoring (for my wedding cake, I flavored the fondant with almond flavoring) but it's never going to be really great. It is, however, traditional.
Roll out the fondant the same way you did the marzipan — between two sheets of parchment. You can also roll it using powdered sugar to keep it from sticking, but I think the parchment works better. The thicker your fondant, the less it will show imperfections in the surface. However, keep in mind the taste caveats when you're determining your fondant thickness. Because fruitcake, unlike an American wedding cake, doesn't have a buttercream layer, which you can make extremely smooth, there are going to be some lumps and bumps. This is normal and should be embraced as part of the aesthetics.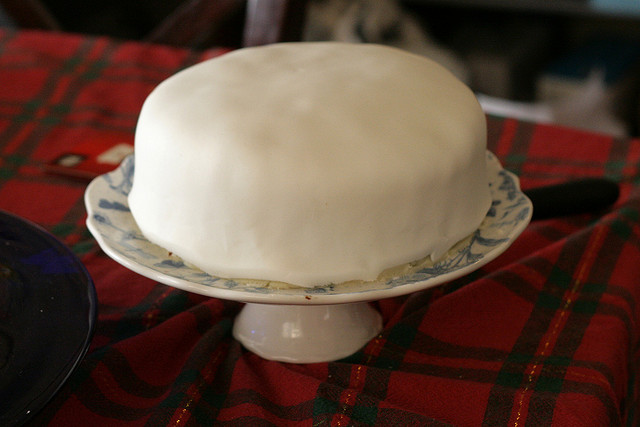 Transfer the fondant to the fruitcake and use your hands to smooth across the top and the sides. Unlike marzipan, rolled fondant isn't tacky — it's smooth and should be able to cling to the sides of the cake without wrinkles. With a sharp knife, trim the bottom. (It's hard to get the bottom looking perfect — a ribbon is a lovely decoration that hides these sins).
Now you've got a basic iced Christmas cake, and you can do with it what you like. You can paint decorations with some food coloring, go minimalist with just a sprig of holly, or press in some silver dragees. You can do what my daughter did — attack the fondant with a sharp knife while your mother isn't looking, yielding slashes all over the cake showing the deep dark insides of the fruitcake. You can also do what I did, which is to embrace the white on white aesthetic and cut shapes out of the leftover fondant. If you do this shortly after icing it, the fondant will stick to the fondant, and you don't need any adhesive. It also covers a multitude of sins, including your typical lumps and bumps AND a two year old's slasher art.
The fruitcake will keep, iced, for several days before serving.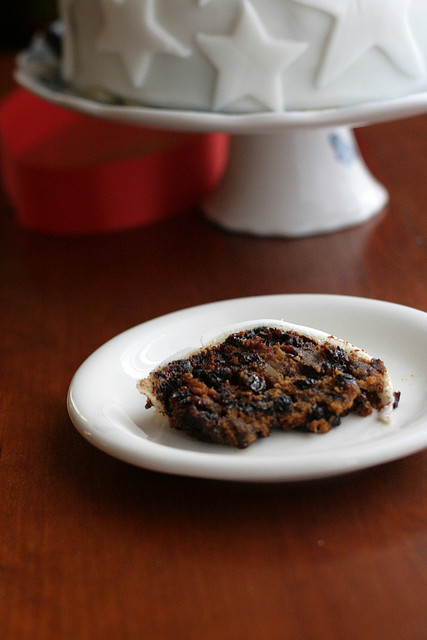 Marzipan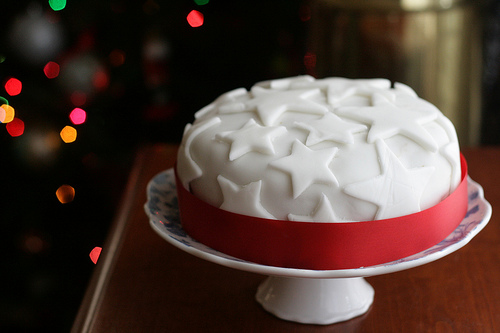 Ingredients
8 oz. commercial almond paste
1¾ c. powdered sugar
4 T corn syrup
Instructions
Combine sugar and almond paste in a food processor and process until crumbly. With motor running, add the corn syrup and process until the mixture comes together. Knead a few times and it's ready for rolling.