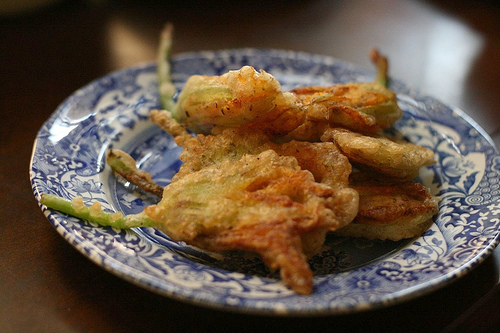 When Ken and I first moved to Los Angeles, we'd go to our
favorite local bar every Sunday night. We'd sit in a booth sipping local microbrews and munching upmarket bar snacks like wood fired pizzas and the world's best fried calamari while listening to 80's hard rock on the jukebox. It was the perfect way to prolong the weekend and put off just a little longer the spectre of Monday morning and back to work.
Well, that was then. I don't know if you've ever had a toddler, but toddlers and bars do not mix. It's a combination of the glassware and the dim lighting. Sadly, our Sunday night dates at the local bar are on indefinite hold.
As the weather has gotten warmer here, we've discovered an excellent alternative. We set the Nuni up with Sesame Street (which holds her rapt) and we escape out to our front patio (where we can keep an eye on the baby through the windows without having to actually listen to Sesame Street) with a bottle of Chimay. Sadly, we don't have an oven for wood fired pizza, but since Sunday is also farmers' market day, we can often come up with decent upmarket bar snacks of our own, like these fried zucchini blossoms.
Zucchini Blossoms are one of those things that sound completely bizarre until you've eaten them and realize how delicious they are, and you start scheming about how to get more of them into your life. I've eaten them at fancy restaurants and holes in the wall, chopped into quesadillas, baked into quiches, and stuffed with any manner of things, but the best way to eat Zucchini Blossoms is battered and fried, at home.
You can find zucchini blossoms (or any squash blossoms, really) at farmers' markets. They obviously precede the squash by a few weeks. You can get the type with the miniature zucchinis on the end ("female" blossoms, which kind of creeps me out if I think too hard about it), or the kind that are just flowers ("male" blossoms) – either kind will work with this recipe. The female kind have been costing 5 for $5 at our market lately, while we can get about 20 of the male kind for eighty-five cents, so I've been frying the male kind. If squash blossoms cost a fortune or are completely unavailable in your hood, you can grow them yourself. I grew zucchini plants from seeds on a windowsill in my last Manhattan apartment, and they yielded many many flowers for frying.
The batter couldn't be simpler – you just mix flour and club soda until it's the consistency of heavy cream. Don't add eggs – they make the batter too heavy. And beer gives it a flavor that I think interferes with the delicacy of the blossoms. Club soda adds the necessary lightness that makes these really crispy. You could also add a little, just a little, rice flour to up the crunchiness. Add a pinch of salt and some herbs – I like herbes de provence, which are kind of my default dried herbs. Finely minced fresh chives would also be nice. Don't wash the flowers – just try to buy clean ones. If they're wet the batter won't be able to cling to the blossoms.
Heat oil (olive or canola – or canola with some olive. Olive tastes better but is more expensive and smokier) in a large skillet – about ¼ inch deep. When the oil is very very hot, CAREFULLY place the battered blossoms in the oil.
Fry until golden brown on one side, then turn (I use my favorite Oxo tongs) and fry until golden on the other side. Drain on a paper towel, then sprinkle with sea salt and eat hot.
These are one of my favorite things to eat, period. The lightness of the blossoms just crisps up, and they have this amazing delicate zucchini flavor. There's also the fact that if you batter and fry just about anything it's going to be good, but trust me, these are really special.
Fried Zucchini Blossoms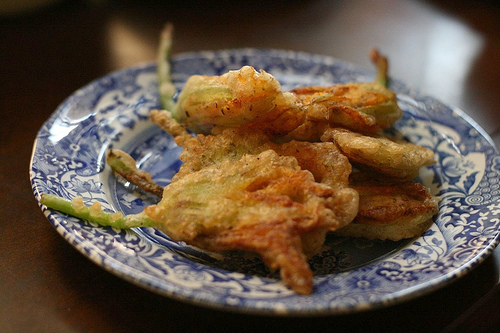 Ingredients
Zucchini or other squash blossoms
⅔ c flour
¾ c. club soda
Herbes de Provence
Salt
Oil
Instructions
Whisk flour into soda – adjust proportions so batter is the consistency of heavy cream or slightly thicker.
Coat blossoms in batter, and shallow fry in hot oil.
Drain on paper towels and season with salt.