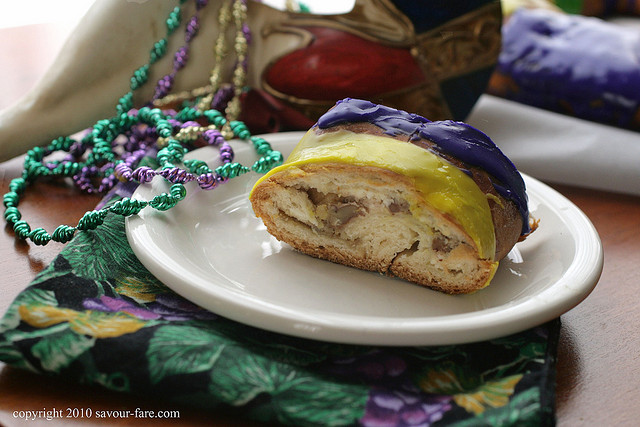 A confession: I've never been to Mardi Gras. I realize it counts as one of those things you should do in your life but I'm kind of afraid that that ship has sailed. Although I've never been a wild partier, there was a time when a citywide party with a crowd of strangers and copious alcohol may have seemed like it might be fun. Now, in my advancing middle age (I'll be Thirty TWO on my next birthday) I am now firmly in the stage of my life where a good time means a comfortable seat, a scintillating conversation, and one or three cocktails prepared with extreme care. And I have a secret suspicion that those three items might be hard to find in New Orleans during Mardi Gras.
There are certain things I AM sorry to miss out on, though, and one of those is the famous King Cake. I've had the French Galette des Rois for Twelfth Night (you may have noticed if you're a regular reader that my upbringing tends towards the francophone), but that frangipane and pastry confection is, from what I understand, NOT the same thing. I have friends in the South who talk about King Cakes from January 6 through Mardi Gras, and my interest was piqued. I've spent the past few years checking out all the places in Los Angeles that I thought might reasonably sell King Cake, all to no avail. So, since Tuesday is Mardi Gras (french for Fat Tuesday, fittingly) I did what any moderately insane curious person with a kitchen would do — decided to make my own.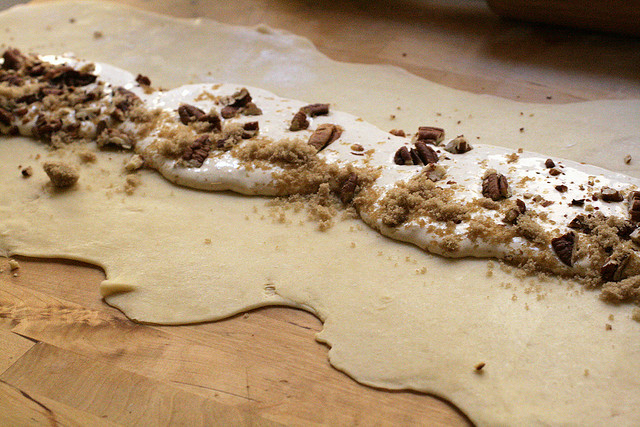 Aiming for an authentic experience, I found a King Cake recipe on the New Orleans Times Picayune website, Nola.com, and then adapted it slightly. Plain cinnamon sugar is the traditional filling, but both cream cheese and praline seem to be mentioned often enough as people's favorites that I thought I'd go a little wild with the filling. And of course, it's not a New Orleans Mardi Gras King Cake unless it's decorated with the traditional colors of Mardi Gras — purple, green and gold — so I got out my gel food coloring and my icing (though food coloring never tastes good, and if you're not being a purist I would suggest going with all white icing).
The yeast is intimidating but not difficult — remember that a moister, stickier dough will yield a lighter and more tender bread, and yeast cookery involves a few extra steps but no real extra degrees of diffuculty. And it's worth it. The result is a buttery, rich coffee cake that is not too sweet, despite all that icing. Will it transport you to New Orleans during Mardi Gras? That I can't tell you. But it's certainly a cake for a king. Or a party.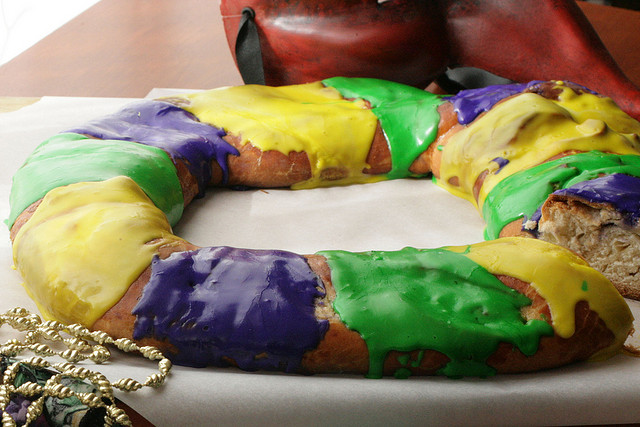 NOLA Mardi Gras King Cake
This recipe makes enough dough for two king cakes. If you're not up for two of them, the other half would make great cinnamon rolls. The Times Picayune also promises that the dough freezes beautifully. I recommend using a stand mixer because to get really tender sweet dough you're going to have a super sticky dough which is hard to knead by hand. More moisture in the dough will yield a softer, more tender result.
Ingredients
For the dough:
1 envelope dry yeast
¼ c. warm water (about 100 degrees)
½ c. milk
1 c. salted butter
½ c. sugar
2 egg yolks
2 whole eggs
4 c. flour
1 tsp cinnamon
1 tsp. baking powder
For the filling:
8 oz cream cheese
1 egg
2 T. white sugar
2 T. flour
2 tsp. cinnamon
1 tsp. vanilla
½ c. chopped, toasted pecans
¼ c. brown sugar
1 egg (for egg wash)
For Icing
Powdered Sugar
Salt
Almond Extract
Food Coloring
Instructions
Make the Dough:
Mix the yeast with the warm water. Add 1 tsp. sugar and 1 tsp. flour and stir. Set aside to proof.
Heat the milk with the butter and sugar in a saucepan. When the butter has melted, transfer to the bowl of a standing mixer. Start mixing with the flat blade on low to cool the mixture to lukewarm. Add eggs, egg yolks and yeast mixture (which should be bubbling nicely by this point. If there are no bubbles, your yeast may be less active than it needs to be) and mix until combined.
Add 2 cups flour, cinnamon and baking powder and continue to mix, then switch to the dough hook attachment, and add two more cups of flour. Let the dough hook knead the mixture until all the flour is incorporated and the mixture looks smooth and elastic. It should be incredibly sticky but still form a mass (ie., the dough can be mostly formed into a sticky ball -- it's not a batter). Transfer to an oiled bowl, cover with a towel, and let rise in a warm place until doubled in bulk, about two hours.
When the dough has risen, pat it down (let some of the air out, but don't be so unkind as to punch it, then cover with a damp towel and leave in the refrigerator for 7-8 hours, or overnight.
Meanwhile prepare the filling.
Combine cream cheese, egg, white sugar, flour, cinnamon and vanilla and beat until thoroughly combined.
To assemble the cake:
While the dough is still cold, divide it in half, and set 1 half aside. With the other half, roll it into a long sausage shape, then on a floured board with a floured rolling pin roll the sausage into a long rectangle about 30 inches long by 9 inches tall. The dough should be fairly thin, like pie crust.
Spread the cream cheese filling down the center of the dough, then sprinkle the chopped, toasted pecans and the brown sugar along the filling. Fold the dough down over the filling so that the edge slightly overlaps in the middle, and arrange, seam side down, on a cookie sheet lined with parchment paper into the shape of a ring. Seal the edge of the ring, brush with egg wash, cover with a kitchen towel, and let rest for 30 minutes.
Preheat oven to 375 degrees.
When the cake has rested, make some slits in the top with a sharp knife, then brush again with egg wash. Bake at 375 for 35 minutes, and let cool before icing.
Ice the Cake
For the icing, mix powdered sugar with a pinch of salt, a few drops of almond extract and water until it's the consistency of a thick and spreadable paste. If desired, color with food coloring, and spread on top of the cake.
Serve with coffee.
Notes
Adapted from Nola.com