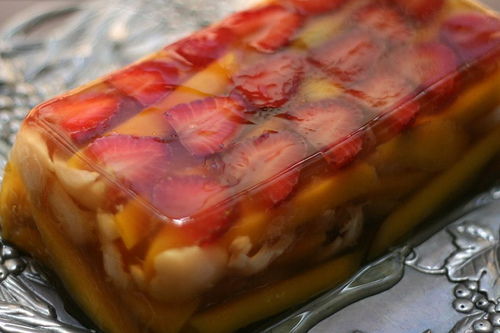 I know what you're saying to me. You're saying, "Kate, it is Mother's Day on Sunday and you have provided me with NO recipes to prepare/give to my children to prepare for Mother's Day brunch. You keep prattling on about Cinco de Mayo and it is LONG GONE."
Let me just finish my last margarita …. OK, now we're really ready to get down to business. I'm sure the web is rife with all sorts of lovely recipes for eggs and toast and pancakes that are mother-worthy, but sadly my mother is no great fan of brunch, and breakfast food is just not ringing my bells. So I present you instead with another idea (and yes, you can pair it with eggs and pancakes, or you can pair it with chicken salad and popovers, if your mother is more like mine) — fruit salad, with a twist. A lovely fruit terrine cloaked in a refreshing minty gelee (which sounds oh so much more elegant than jello and less clinical than gelatin) which glimmers like stained glass.
The twist seems aesthetic, but really, it's very practical. Although springtime seems like the perfect time to eat fruit salads, there aren't really that many good fruits available. The apples and pears of autumn have long since turned to mush, the citrus of winter has been done to death, and the beautiful berries and stone fruits of summer (which is REALLY fruit salad season) are merely blossoms on the bough. Although I love rhubarb, I doubt its application in fruit salad, so you're left with strawberries. And in my opinion, the strawberries worth having cost $5 for a small basket and the volumes required for a proper fruit salad could bankrupt you. (Really, they are the best berries. They're from Harry's Berries and if you're in Southern California you really should seek them out at your farmer's market. Expensive, yes, but infinitely superior to all other berries. Don't believe me? My cousin works at Thomas Keller's Per Se and she says they fly all of their berries in from Harry's.) So what are you to do? Suspending some tropical fruits in mint gelee makes them go farther and look prettier.

You can really use any fruit for this, but I used a few precious strawberries, some ripe mangos, and canned lychees. To prepare your fruit, cut it into pieces. I sliced up the strawberries (which I used on the bottom), cut the mango into long strips and cut the lychees in half.
To make the gelee, brew some hot mint tea. I used a lovely lemongrass spearmint peppermint blend that's available at Trader Joe's. It's very similar to Tazo brand Zen tea, but any regular peppermint tea will also work. Make the tea as you ordinarily would, and sweeten it to taste. Pull out 1/2 cup and stick it in the freezer to chill. When the freezer tea is cool, soften two packets of Knox unflavored gelatin in the cool tea. Let that sit until the gelatin has completely expanded, then add 2.75 cups hot (or warm) mint tea and stir until the gelatin has completely dissolved. (You won't see any more gelatin granules on your spoon). Let cool slightly, but don't chill — yet.
I made this in a loaf pan to get away from that 1950's jello salad aura, but also to make for easier unmolding. I coated the loaf pan with the lightest layer of vegetable oil, then poured in about 1/4 inch of the tea/gelatin mixture on the bottom. This went into the freezer to set, which it did nicely after about 10 minutes.
Then I layered in my fruit. I paid particular attention to the bottom strawberries, since they would be more visible, and after that I tried to layer in my fruit in a pleasing pattern, which worked exactly not at all. Mangos and lychees do not stay stacked in a grid-like pattern. If you have infinite amounts of time and patience you can chill each layer in the gelatin to set, or you can do what I did (always do) and go for a "rustic" look.

Pour in your mint tea/gelatin mixture, cover with plastic wrap and foil, and chill in the refrigerator for 24 hours.

To unmold, briefly dip the pan in warm (Not hot) water. It should slide right out. You can also loosen the edges with a sharp knife.
Slice with a warm knife, and serve to your beaming mother. This is not too sweet (depending, of course, on how much you sweeten the tea) and is very refreshing.
Mint Tea Gelee Fruit Terrine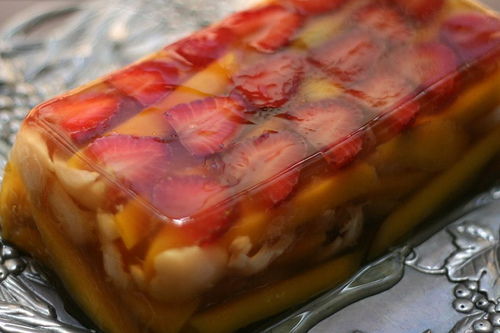 Ingredients
2 packets Knox Gelatin
½ c. cold water
3 c. hot mint tea
sugar to taste
2 ripe mangos, peeled and cut into strips
1 can lychees, drained and cut in half
3-4 strawberries, sliced.
Instructions
Brew the tea and sweeten it to taste. Chill ½ c. of the tea. Soften the gelatin in the cooled tea, then add the remainder of the warm tea and stir until the gelatin is completely dissolved.
Prepare a loaf pan with a thin coat of vegetable oil. Pour a thin layer of tea into the bottom of the loaf pan and freeze until set, about 10 minutes.
Arrange the fruit in the loaf pan, add the remaining gelatin/tea mixture, and chill until firm, at least 8 hours, preferably 24.