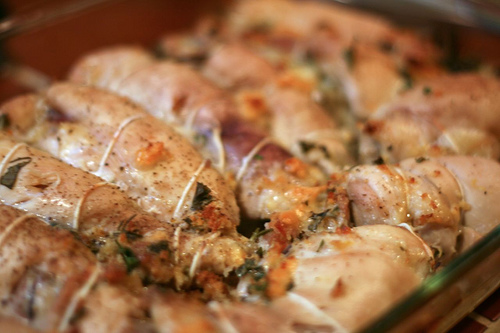 When did chicken become the thing that we eat? Grilled chicken breasts. Baked chicken breasts. Roast chicken (OK, roast chicken is fantastic, but you get my drift). Maybe it's the ubiquity, or maybe it's the Michael Pollan-esque complaint regarding the flavorlessness of industrial chicken, but I get bored with the endless parade of chicken breasts, chicken legs, chicken tenders, chicken strips (though roast chicken is still fantastic).I want my chicken to have a little pizzazz.
This recipe offers the perfect solution to put a little oomph in your chicken. Well, if you describe oomph as a stuffing that has the rich saltiness of prosciutto and provolone cheese, the sharp hit of parmesan and the brightness of lemon zest. This recipe comes from Mario Batali, and say what you like about his clogs, his food show with Gwyneth Paltrow, or the teeny overcrowded waiting spaces at his restaurants, the man can cook. There's something about Mario Batali's food that is very satisfying. And this recipe is no exception.
It's not difficult to make, but it's a little fussy. I would call this perfect Sunday night supper – you have the leisure to cook, and you want something heartwarming and not stuffy.
Start with boneless skinless chicken thighs (the best cut of chicken, if you ask me) and pound them flat between two pieces of parchment with a rolling pin, or, if your kitchen is better stocked than mine, a mallet (or as I like to call it, a meathammer.)
Chop up all the ingredients for the filling, then start putting it in each piece of chicken, and tie it up. I found it didn't roll so much as wrap, and three pieces of kitchen twine just about did it for the tying.
Place all the chicken wraps in a dish, and bake. (They can also be refrigerated prior to roasting, meaning the tough part can be accomplished well in advance). Before serving, use kitchen shears to remove the twine.
Stuffed Chicken Thighs or Braciole Di Pollo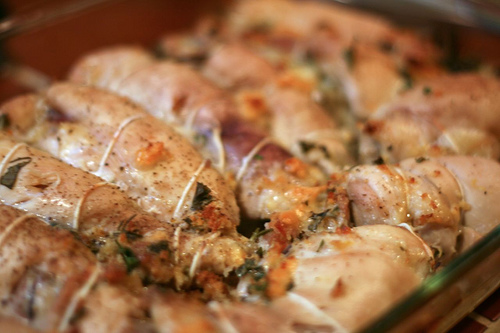 Ingredients
4 oz. thinly sliced prosciutto, cut into ¼ in wide strips
1 ½ c. fresh bread crumbs
1 ½ c. freshly grated Parmigiano Reggiano
½ c. grated provolone
2 large eggs, beaten
¼ c. finely chopped Italian parsley
1 bunch basil leaves
1 T chopped fresh rosemary
Zest of 4 lemons
12 boneless skinless chicken thighs.
Instructions
Preheat oven to 450 degrees.
Mix ingredients for filling together.
Pound thighs between sheets of parchment paper until ½ inch to 1 inch thick. Put a spoonful or two of filling into each thigh, roll, and secure with three pieces kitchen twine.
Arrange chicken legs, seam side down, in a baking dish. Season with salt and pepper and roast 35-40 minutes or until golden.
Allow to rest for 10 minutes, remove kitchen twine (a pair of scissors works wonderfully) and serve whole or sliced.
Notes
Adapted from Molto Italiano by Mario Batali