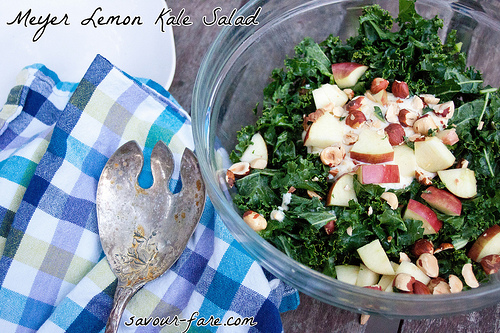 If you're eating vegetables for their health benefits, you'd be hard-pressed to find something betthan than kale.  Low in calories, full of fiber, and rich in vitamins, A,C and K,  it's commonly referred to as a "nutrition powerhouse."   Of course, I'm not the first person to discover this, so there are recipes all over creation  trying to make kale, which can be challenging, palatable.  This one actually succeeds. You may think that there are no new frontiers to be conquered with regards to kale salad, but you would be mistaken. This kale salad is epic. This kale salad is the one that people go back for seconds for on a buffet. This kale salad caused my five year old to utter the words, "Sigh. MOOOOOMMM. Why can't you just make kale salad again?" (She is five going on fifteen). This kale salad will CHANGE YOUR LIFE.
OK, Pinterest style hyperbole aside, this really is pretty great. The secret is the dressing, which I got from my aunt. It never occurred to me to make a sweet kale salad dressing, but it does elevate the "eat this because it's good for you" nature of kale salad to "eat this because it's DELICIOUS." You can use regular lemons if that's what you have, but my Meyer Lemon Tree happens to be weighed down with golden orbs right now, and they add a sweet floral quality that just enhances the kale salad even more. Adding fruit and nuts adds a nice texture and another flavor dimension – apple and hazelnuts are a great combination, but the apples could be replaced with pears, persimmons, or berries, and the hazelnuts could be replaced with toasted almonds, pine nuts, walnuts or even croutons.
Don't skimp on the step of rubbing the lemon juice into the kale. Raw kale can be tough – especially if you use curly kale as I did here instead of black (or Tuscan, or dinosaur, or lacinato) kale. The acid from the lemon juice, combined with the pressure from your fingers, breaks down some of the tough fibers in the kale, and tenderizes it. It saves the step of blanching that some recipes call for, but still helps soften the texture.
We always liked kale, but this recipe has made kale salad a regular player in our house.

Meyer Lemon Kale Salad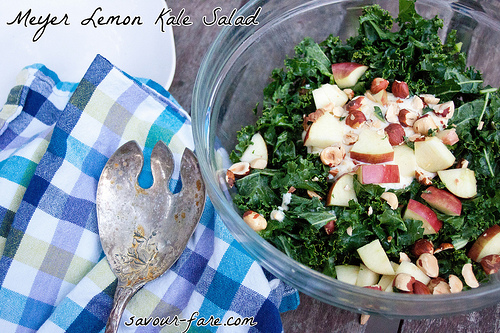 This salad dressing
Ingredients
Juice and zest 2 meyer lemons
⅓ cup mayonnaise
1 tsp. sugar
1 pinch salt
1 bunch curly or Tuscan kale
1 small apple, chopped
¼ cup toasted hazelnuts, chopped
Instructions
Make the dressing:
In a small bowl, mix the juice of 1 lemon, the zest of both lemons, the mayonnaise, the sugar and the salt.
Make the salad:
Wash the kale, remove the tough stems with a knife, and cut the kale into ribbons.
In a large bowl, squeeze the juice of the remaining 1 lemon over the kale, and massage the lemon juice into the kale, really working it until the kale feels more tender in your hands.
Mix the dressing, the apples and the hazelnuts into the kale salad. Serve.