Are you always on the lookout for an easy Christmas cookie recipe that leaves a big impression?  I want a cookie that's fun and easy to make, but has a great flavor and texture.  Bonus points if it's unusual.  Fortunately, these baklava bar cookies check all those boxes. With flavor from honey and walnuts, and a great texture from crumbled phyllo, these easy bar cookies are a great addition to anyone's Christmas cookie plate.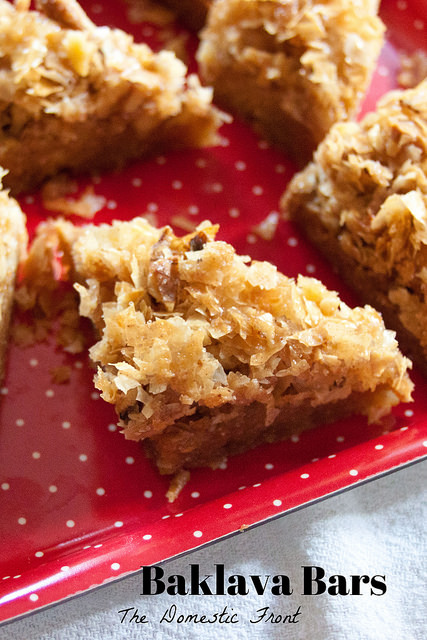 I have this vision of the holidays. My family and I are sitting on the couch in our living room in the evening, fire in the fireplace, tree lights on, carols playing softly in the background. We are sipping hot beverages – cocoa for the kids, hot buttered rum for me – and enjoying the peace of the season.
Peace of the season? Ha! First of all, quiet is not a state you frequently enjoy when there is a five year old and a six month old in the house. And there is no time for sitting or sipping in December. The slog of daily life – homework, work, commuting, chores – tends to increase in December. And then there are the seasonal activities – parties and performances and Santa visits and shopping and wrapping and church services and cards and endless cookie baking. Every activity seems to come with a side of cookies.  Sugar cookies are traditional, but decorating them is time-consuming.   And I love these bourbon balls, but they are a bit boozy, and I think the other moms would give me the side eye if I brought them to the church choir potluck.
That's why when I see a cookie like these baklava bars, I knew I had hit the jackpot. They are easy, delicious AND unique.  A buttery cookie base with a crumbly topping of crispy phyllo and walnuts – what could be better? And you can bake a pan at a time and cut them into rich little triangles in no time flat. These taste affirmatively like baklava, but are also definitively cookies – which is a lovely half state to be in.

As a warning – these are very crumbly cookies. They tend to leave a trail of phyllo and walnut wherever they go. As a result, they are lovely for a party, and Santa would surely love them, but I'm not sure they'd stand up well to mailing.
Now, if you'll excuse me, I have a million things to do, and maybe if I'm a very good girl, I will get to Christmas Eve and finally have that moment – just a moment! — of peace.

Baklava Bars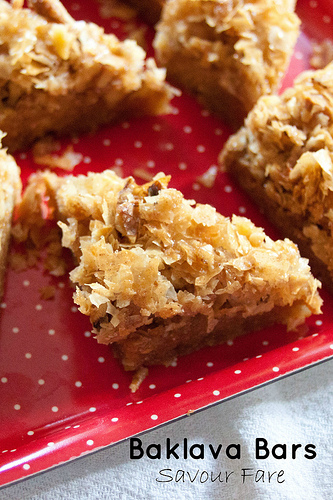 Tweaked from Betty Crocker
Ingredients
8 sheets frozen phyllo dough
¾ cup Butter, divided (4 T for the Phyllos, 4 T for the topping, 4 T for the glaze)
1 batch sugar cookie dough (it's easy to double the recipe for cookies and reserve half the dough, or you could use a mix or even, gasp, refrigerated dough)
1½ cups chopped walnuts
⅓ cup white sugar
1½ tsp cinnamon, divided
⅔ cup honey
2 Tablespoons brown sugar
Juice from ½ lemon
Instructions
Preheat oven to 400 degrees. Melt 4 Tablespoons of the butter, and lay the phyllo sheets out on a cookie sheet lined with parchment or silpat, brushing each sheet with melted butter before adding the next. Phyllo can be intimidating to work with, but it 100% does not matter here if it bunches or tears - we are going to crumble it all up, anyway. Brush the last sheet with the remaining melted butter, and pop it in the oven until the phyllo is golden brown - 10-15 minutes.
Reduce oven heat yo 350. Press the cookie dough into a greased 10x14 rectangular pan. Bake 15 minutes, until just starting to color, and remove from oven to cool.
Crumble the phyllo sheets into a medium bowl. Add the walnuts, white sugar, 1 teaspoon of the cinnamon, and 4 T of the butter, softened, and mix to combine. Spread this mixture over the par baked cookie dough, And bake 18 minutes longer. Remove from oven.
Meanwhile, in a small, microwave safe bowl, combine remaining 4 T butter, remaining ½ tsp cinnamon, lemon juice, brown sugar and honey. Microwave 1 minute or until the mixture is bubbly (this can also be done on the stovetop. Pour the glaze evenly over the cookies still in the pan. Let cool thoroughly, and cut into triangles.
These actually keep remarkably well - over a week. Makes 48 cookies.