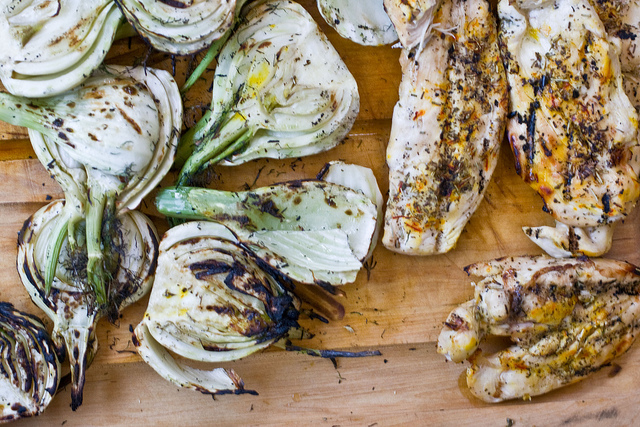 I have a confession to make: I don't grill.
I plan grilled meals. I prepare foods for grilling. I even bought the grills (we have both charcoal and gas). But I have no idea how to use the damn things. Every time I want dinner on the barbecue I have to bat my eyes and ask Ken to fire it up. (Southerners, do not freak out. Californians call grills barbecues. So do Australians, I think. We know it is not the same thing.) I would say this is a problem that should be fixed, except it IS kind of nice to say, "Here honey. You're cooking tonight."
Then I get hooked on recipes like this one. Meat and vegetables plus a few herbs and spices plus fire equals a super flavorful (and totally healthy!) meal. So I start to want to grill every night. And of course, Ken often works late, leaving my grilling urges unsatisfied. Maybe I should figure this out after all.
I threw this together one night and based it on the flavors from a summer in the South of France — saffron and garlic and fennel from Bouillabaisse, garlic and wine and oranges and herbs de provence from everything else. It takes no time to put together, and I wasn't even planning to share it (hence the lack of carefully styled photography) but it was too good not to. This is going on the menu again and again this summer (and maybe into fall and winter too — there are advantages to living in Los Angeles.)
Now, if only I knew how to grill….

Provencal Grilled Chicken Breasts and Fennel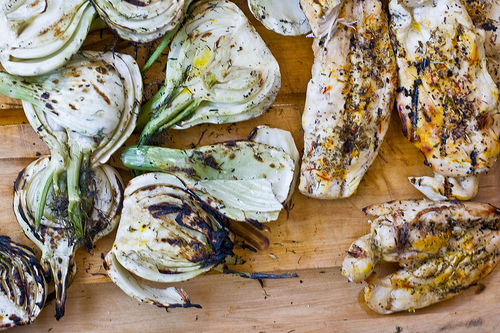 Ingredients
2 lbs boneless, skinless chicken breasts
2 T Herbes de Provence
1 T Maldon salt or another flaky sea salt
½ tsp. saffron
3 cloves garlic
3 T olive oil
½ c. dry vermouth
zest from 1 orange
2 bulbs fennel
additional olive oil, salt, and herbes de provence
Instructions
Cut the chicken in half lengthwise to make thin pieces of chicken -- this helps them grill more evenly.
In a small bowl, combine the salt, herbes de provence and saffron. Rub the mixture all over both sides of the chicken breast.
In a dish, arrange the chicken breasts, then pour in wine and olive oil. Mince the garlic and scatter over the top, sprinkle on the orange zest. Let sit at least 30 minutes, but up to a day (in the refrigerator, natch.)
Remove the green parts from the fennel. Thickly slice the bulbs lengthwise, brush each piece with olive oil, and sprinkle with salt and herbes de provence.
Grill the chicken and the fennel over medium heat (the fennel takes longer than the chicken and retains some crunch).
Serve with sliced fennel, brushed with evoo and grilled.