I know it's traditional to go out for New Year's Eve, and I always have the best intentions, but the more I look at the offerings — uninspiring menus at shocking prices — the more I want to stay home. This New Year's Eve, I did the next best thing, and packed the Nuni off to spend the night with her grandparents, which meant that I could produce a feast. I set the husband to making champagne cocktails, and produced the following extravaganza. I present the menu for your edification and virtual enjoyment (since I developed a lovely cold which left me able to smell and taste nearly nothing, I enjoyed it virtually as well, but the husband tells me everything tasted good).
New Year's Eve Chez The Domestic Front
December 31, 2009
Amuse Bouche
Pigs are the Blanket
Medjool dates stuffed with gruyere cheese  and wrapped with Niman Ranch Bacon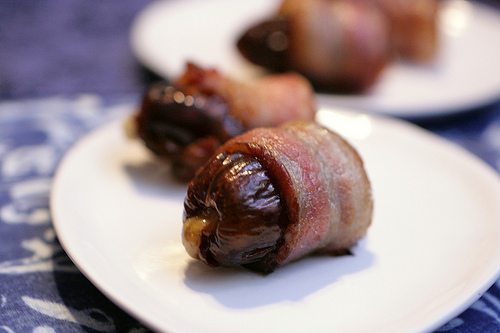 *
Entree
Earth Meets Sea
Poached scallops with celery root puree and fried celery leaves
*
Main Course
Fruits of the Land

Lamb Top Round with Port, Juniper and Cherry Sauce
Pommes Anna
Creamed Kale
*
Dessert
Nuts over Chocolate
Pistachio Panna Cotta with Milk Chocolate Creme Anglaise and Pistachio Praline
If the Nuni weren't hanging on me all the time, we'd eat like this every night, of course.
I won't tell you about the rest of the evening, which involved watching Netflix movies until 12:08 pm and promptly going to bed.  Nuni or not, we're still parents, which means we're exhausted.
Happy New Year!