New Year's Day is really a strange holiday. Everyone celebrates hard on New Year's Eve, leaving the holiday itself as a day to lie around, nurse your hangover, and watch the Rose Parade and the Rose Bowl on TV (which is an excellent hangover nursing activity, though perhaps I'm a little biased towards the Rose Parade since I grew up in Pasadena).
But New Year's Day has some lovely traditions, most of which are associate with the idea of beginning the New Year as you mean to go on. My friend Rebecca spends all of New Year's Day doing activities she hopes to do throughout the year — spending time with her family, doing the things she loves. This is a tradition I try to aim for, but I've already spent more time doing dishes this morning (a byproduct of the fancy New Year's Eve dinner I cooked, which I'll tell you about at some point) than I would like to for the rest of the year. Still, I've also spent time reading, talking to my husband, exercising, and calling old friends on the telephone. Later, I plan to go out to lunch with my husband and spend some quality time with my daughter and my parents, and of course, cooking.

Black Eyed Pea and 3 Pepper Salsa or Texas Caviar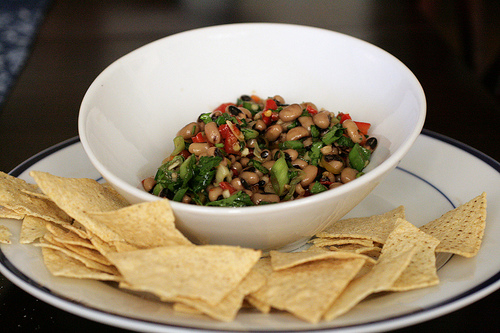 (VERY loosely adapted from Gourmet Magazine, January 1999 Pickled Black Eyed Peas and my submission to this month's Gourmet Unbound. Also sometimes referred to as Texas caviar.)
Ingredients
2 cans of cooked black eyed peas, drained and rinsed,or about 22 oz. of cooked black eyed peas
1 small red bell pepper
4-5 jarred piquillo peppers (these can be replaced with pimentos or roasted red peppers)
6-7 jarred pickled guindilla peppers (These are a Spanish pepper -- I bought my stash at Trader Joe's. These can also be replaced with peperoncini or my beloved pickled jalapenos).
½ bunch parsley
5 scallions
3 cloves garlic
2 tsp. red wine vinegar
2 T. extra virgin olive oil
½ tsp. Sriracha or a hot sauce of your choice
1 T Worcestershire Sauce
Instructions
Finely chop all the peppers, the parsley, the scallions, and the garlic and add to a bowl with the peas. Combine the oil and vinegar, add Worcestershire sauce and hot sauce and toss with the peas and peppers. Serve with triscuits or tortilla chips.
There are also traditional foods that should be eaten on New Year's Eve and New Year's Day, which are supposed to bring luck and prosperity in the New Year. Greens (to represent money) and pork (to represent progress) are often named, but it's black eyed peas that are most often thought to bring luck, in a tradition that dates back to 500 AD. My New Year's Day tradition, then, is to make a variant of this dish to bring luck in the New Year. It also has the added advantage of being healthy and delicious, so if I begin as I mean to go on, this is a great beginning.