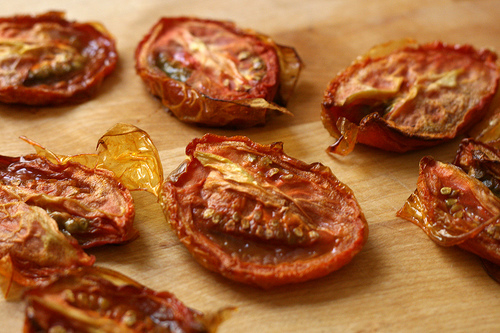 It's May in Southern California. The mornings are foggy, the jacarandas are in bloom, the days are warm, though the nights are cool, and the afternoons are stretching further into the sun dappled evenings.
Aesthetically, it's a beautiful time of year, but culinarily, it's a bit of a pickle, especially if you're in the mood for salad. The butternut squash and cabbage salads of winter no longer satisfy, there's only so much asparagus you can eat, and lettuce gets a little boring. But summer vegetables – the zucchini, the corn and most of all, the tomatoes, are still a long way off. Tomato salads have been calling my name, but I can't get anything but a tasteless tomato, and won't be able to get anything more for a couple of months yet.
The solution is the slow roasted tomato. By cooking a standard supermarket plum tomato in the oven at a low heat, the sugars caramelize, the juices concentrate, and what you get is worthy of my favorite summer salad – panzanella (though they're also terrific in sandwiches).
Panzanella is an Italian salad made from bread and tomatoes, usually with a little garlic. My recipe for panzanella uses a thick country bread (pain de campagne) cut into cubes and lightly toasted (who has the self-control to let bread like this go stale?) then layered with the roasted tomatoes (though when they're available I do use fresh), capers, basil and roasted red peppers, then tossed with a vinaigrette. The result is a savoury, intensely flavored side dish that's perfect with grilled meats and makes a great addition to any party.
Slow Roasted Tomatoes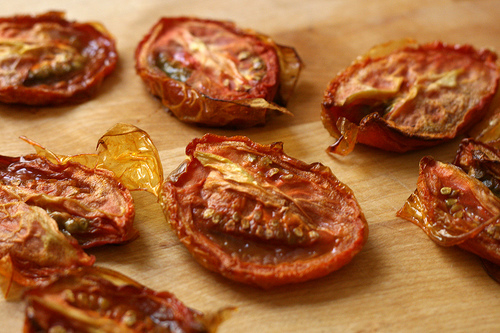 Ingredients
6 Italian Plum Tomatoes
¼ c. olive oil
Instructions
Cut 6 Italian plum tomatoes in half lengthwise and remove the stem. Drizzle with ¼ c. olive oil, and roast, cut side up, on a cookie sheet at 200 degrees for 4-6 hours. The tomatoes will be caramelized and wrinkled, but the flavor will have intensified accordingly. These can be stored in a covered container in the refrigerator for about 3 days.
Roasted Tomato Panzanella
Ingredients
Roasted Tomatoes (see above)
¼ c. drained capers
6 T red wine vinegar
4 c. bread cubes (pain de campagne or ciabatta or another firm flavorful bread)
2 T. plus ⅔ c. olive oil
1 garlic clove, minced
1 bunch basil, leaves sliced into thin slices
1 c. drained piquillo pepper strips
¼ c. pitted green olives
Chopped Italian parsley, to garnish
Instructions
Soak the capers in 2 tablespoons of vinegar in a small bowl.
Brush the bread cubes in olive oil and toast at 350 degrees until lightly crispy.
In a large bowl, combine ⅔ c. oil, ¼ c. vinegar and garlic. Season with salt and pepper. Add the bread cubes, tomatoes, peppers, capers, olives and basil; toss to combine. Let sit for at least 1 hour before serving to allow the flavors to combine. Garnish with parsley and serve.
Notes
Adapted from Giada di Laurentiis