Mother's Day is coming up soon, and shortly afterwards, my own role in motherhood is going to be expanding (hopefully, in an inverse ratio to my waistline, which has already expanded plenty), so you could say I have mothers on the brain. All of this makes me appreciate my own mother more and more. Which is not surprising, because my mom is awesome sauce.
My mother is the most shockingly competent person I have ever met in my life. Sure, there are really smart people. And sure, there are kickass homemakers. And sure, there are independent women. But my mom manages to combine all of those and make it seem easy. She's worked full time since before I was born, is a distinguished professor at her academic institution, and has written at least six books (I've lost count) and dozens of scholarly articles, all of which make her an expert in her field. Does that mean we ate takeout Chinese food every night through my childhood? Of course not. She's a terrific cook. My mother makes the world's best fried chicken, the world's best Caesar salad, and the world's best cabbage rolls. She sews (she made both my prom dress and my wedding dress), does projects around the house (paints, wallpapers, rebuilds decks), and travels around the world (this summer will be spent in Oxford, touring wool churches and doing research). She also spends a ton of time with the Nuni, and does my dishes every time she visits my house (which is fairly often, as I was smart enough to buy a house two minutes away from hers.)
So yeah, my mom? She's pretty much the bomb.

When I attended this past weeks' Food Bloggers Los Angeles Event, in which the theme was honoring our mothers, I had a lot of choices about what I could make. On the other hand, I am 37 weeks pregnant, and I'm not about to fry up 3 chickens. So I opted for one of my mom's favorite hors d'oeuvres. It's simple, flavorful, and pretty effortless, so it pretty much typifies her style.
Apparently, I chose well, because when we went to my mom's house for dinner after the FBLA event to celebrate my grandmother's birthday, she had prepared the same hors d'oeuvre (with no consultation with me.)
My mom is also psychic.

Roasted Garlic, Red Pepper and Goat Cheese Canapes, or Why My Mom is Awesome Sauce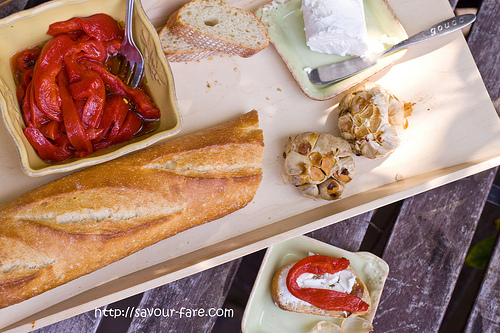 Ingredients
2 Red Bell Peppers
olive oil
2 heads garlic
goat cheese
Baguette
Instructions
Roast the peppers. I do this by blackening all of the skin over the gas flame on my stove, then letting them steam in a plastic bag before I rub the blackened skin off with a paper towel. You can, if you are 37 weeks pregnant, also cheat, and buy roasted red peppers in a jar. They're not quite as good, though.
Remove the stem and seeds from the peppers, slice into thin strips, and place in a small bowl. Douse with olive oil.
Roast the garlic. Preheat the oven to 400 degrees. Rub off the excess white papery skin, slice the pointed tip off the top, and lay each head of garlic in a large piece of tin foil (or a muffin tin). Drizzle with olive oil, wrap the foil completely around the garlic (or, if you're roasting in a muffin tin, cover the top well with foil), and roast for about 45 minutes, or until the garlic is brown and fragrant.
You can serve the heads whole and ask your guests to squeeze the roasted garlic out of each papery husk, or you can do it yourself and serve the cloves sans husks.
Arrange the goat cheese on a plate.
Slice the baguette.
To assemble the canapes (and you can also pre-assemble the canapes), spread a clove of roasted garlic on each slice of baguette. Top with a schmear of goat cheese, and a slice of roasted pepper.