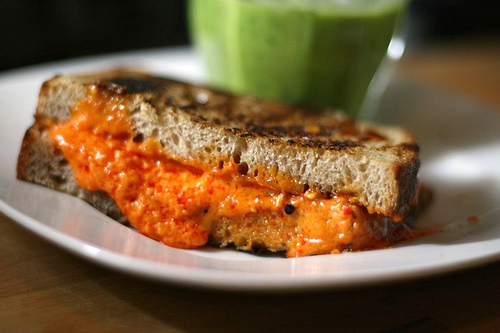 My grandmother belongs to that certain generation that came of cooking age in the 1950's and embraced the introduction of convenience foods with fervor.   This means that Cool Whip is in her freezer, Jello is in her salads, and every dinner party starts with crackers and spreadable cheese — a lurid orange concoction with unpronounceable ingredients that conveniently comes in a tub, or, for more elegant occasions, a ball rolled in pecans.  (To be fair, my grandmother is otherwise a very good cook, and it is entirely possible that my grandchildren will find my ca. 2009 obsession with sriracha and pico de gallo to be equally quaint.)
When I was asked one time to bring hors d'oeuvres to a family party (all parties in our family are potlucks) I cast about for something new besides the regular old brie and crackers, and remembered a program I had seen on the Food Network.  On this program, someone had been exploring the food traditions of this exotic land they called the American South, and had set forth at length about a cornerstone of this food tradition — pimento cheese.  Bingo!  I thought, homemade spreadable cheese.  I figured my grandmother, at least would appreciate it.
Googling will yield any number of recipes for pimento cheese — there seem to be as many variations as the day is long.  Mine isn't a copy of anyone's in particular — I make no claims to its authenticity — I don't even use pimentos, finding the flavor and availability of roasted red peppers, or if you can find them, piquillo peppers, to be much more my style.  I also always use extra sharp cheddar, and Best Foods mayonnaise, because I only eat extra sharp cheddar and Best Foods (or Hellman's) mayonnaise. What I do know is that when I ate this I fell madly in love, and now search out every opportunity to make pimento cheese. It's just that good.


Some pimento cheeses are chunkier — they use shredded cheese and chopped pimentos, and this is good, but mine is easier, dirties fewer bowls, and yields a mysterious neon orange color that is rarely seen in homemade foodstuffs, which adds an aura of novelty.
Once you have the pimento cheese, you can do anything you want with it. It's good with crackers, or piled into celery. It's good on apple slices, or on toast, but the best thing to do with it is make a grilled cheese sandwich.
This is my favorite bread — it's a type of French sourdough bread usually referred to as country bread, or pain de campagne, and it's sturdy enough to stand up to the most flavorful of fillings and delicate enough to slice thinly and eat with butter and jam. To make grilled cheese, I lightly butter both sides of the bread, then put them in a hot cast iron pan. When one side is lightly toasted, turn them, then add the cheese and make a sandwich. Turn, so both sides are evenly brown, and cook until the cheese is melted.

The mayonnaise in the pimento cheese makes these awfully rich, but also very gooey and oozing with neon cheese. It's a sandwich for the atomic age.

Pimento Cheese for Grilled Cheese Sandwiches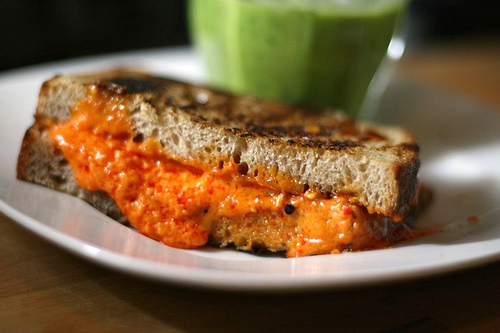 Ingredients
12 oz. extra sharp cheddar cheese
5-6 oz. roasted red bell or piquillo peppers
4 cloves garlic
½ c. Best Foods mayonnaise
Instructions
Break the cheese into large chunks and place in the bowl of your food processor. Pulse until the cheese resembles gravel. Add peppers and garlic, process until mixture is finely chopped. Add mayonnaise and process until mixture is smooth. Add salt and pepper to taste.