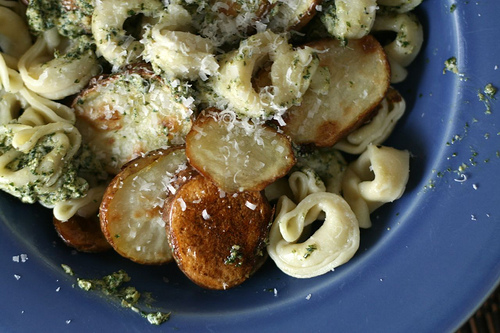 I've never been the biggest fan of pasta (cue screams of horror from right-thinking people everywhere.) Oh sure, I'll eat it if Mario Batali is preparing it, but the standard home pasta dish of noodles and red sauce is a total snoozefest for me. I think it's a texture thing – too much sameness, and it's almost never my first choice of what to have for dinner.
I'll make an exception though, for some good ravioli or tortellini, particularly if they're sauced in something a bit saucier than tomato sauce from a jar, like this unusual pesto, and even more particularly if they're tarted up with some crispy roasted potatoes to add a little flavor and texture variation. And if you think that potatoes and pasta together is an absolutely decadent carbfest then you would be correct.

The pesto itself is something I discovered years ago. My darling husband had offered to cook dinner, and I had an unusual cut of lamb I had picked up, so I dug up a recipe on Epicurious and handed it to him. He made the lamb, which was rubbed in cardamom, and the accompanying pesto, and it was so good I told him I loved him forever. Of course, he already knew that, but the point is that this pesto is really much more than the sum of its parts. It seems like it would be Southeast Asian in flavor, what with the mint, the cashews and the ginger, but it doesn't ring any particular geographic bells – it's just good. And it would be a great pesto alternative for someone who's allergic to dairy, as it doesn't contain any of the cheese that typically appears in pesto.
I'd start this by getting the potatoes in the oven, since they take the longest time to cook. I put unpeeled red potatoes in a large pan of water, bring them to a boil, and then take them off the heat, and drain. Slice them into slices about ½ inch thick, then drizzle with olive oil and pop into a 400 degree oven. You might want to put your pasta pan on to boil, too, as I am thoroughly convinced that NOTHING takes as long in the kitchen as waiting for pasta water to boil. Then turn to your pesto.
To make it, you just whirl up salted roasted cashews, fresh ginger, and fresh mint in a food processor. Add olive oil and garlic to make it actually resemble pesto, and it's done. It takes all of five minutes to make. Then you can start your pasta – just store bought cheese tortellini – boiling. After about 15 minutes, check on the potatoes. When they've gotten brown and puffy, they're done.
To make the dish, take 1/3 c. pesto, add 2 T plain yogurt (I usually use Greek style yogurt), and mix well. Toss the pesto and yogurt mixture with the tortellini and the potatoes, and top with a little grated parmesan.

Tortellini with Potatoes and Mint Pesto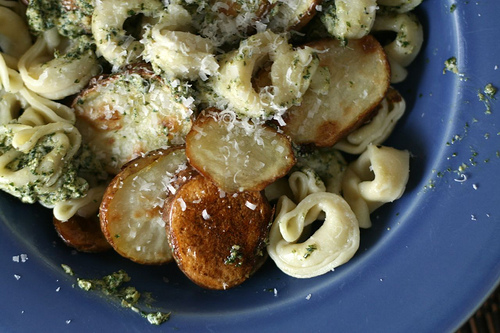 Ingredients
For the potatoes:
4-5 new potatoes
Olive oil
For the pesto (adapted from Epicurious):
2 cups packed fresh mint leaves
1½ tablespoons minced peeled fresh ginger
⅓ cup salted roasted cashews
½ cup olive oil
2 large garlic clove, minced
Salt to taste.
For the pasta:
Cheese tortellini
2 T Greek style plain yogurt
Parmesan Cheese
Instructions
Preheat oven to 400 degrees.
Wash the potatoes and bring them to a boil in a large pan of water. Drain the potatoes, slice them into slices of about ¼-1/2 inch, toss with olive oil and salt, and put on a cookie sheet in the oven.
To make the pesto, combine all ingredients in the food processor. Salt to taste.
Cook pasta according to package directions.
Combine ⅓ c. pesto with yogurt. When potatoes are brown, toss yogurt pesto mixture with pasta and potatoes, top with grated parmesan to taste.