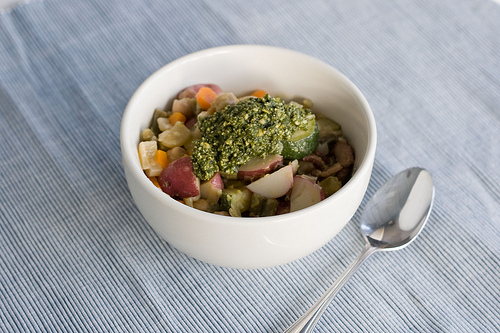 The first meal you cook in a new kitchen feels portentous. As if the success or failure of all future culinary endeavors rests on the results of that one meal. It shouldn't be too simple, or too fancy. You don't want too much room for error, or something that's *gasp* boring. It should be just right.
So when I unpacked my kitchen, and decided my long cooking hiatus would come to an end, I wanted to prepare the perfect meal. I wanted it to be familiar, but novel. Seasonal comfort food. In the first kitchen that's Mine in my very first house, I wanted something that said "Home."
And so I chose soup.
Now I know that soup may not be the most obvious choice for a summer dish. Soups are associate with cold days and long slow simmers on a hot stove. And the usual summer soups – your gazpachos and your vichyssoises and your fruit soups — while delicious, are not homey. But this soup combines the best of both worlds. It's a hearty soup, made with a bounty of summer vegetables which are delicious in soup — green beans, zucchini – and it simmers for less than an hour, as it gets a big flavor boost from a large spoonful of basil pesto, whose sharp summery flavor wakes up your tastebuds. It can be served hot or lukewarm, and it's perfect for those long summer evenings. Soupe Au Pistou is a classic Provencal dish, and it can be made with whatever looks best at your local farmer's market.


I first had Soupe au Pistou one summer when I was spending a month in the town of Menton, on the French Riviera. While that may sound like heaven, the beach was rocky and sleepy towns on the Cote D'Azur do not offer much in the way of culinary diversity. After what seemed like our millionth meal of soupe de poissons, grilled salmon and green salad (which is a lovely meal, just not every day for three weeks) we discovered a restaurant that served Provencal food (which is slightly different from the food you get along the coast) and nothing looked better than the steaming, green pot of Soupe Au Pistou. It tasted like home cooked food after weeks of restaurants.
This recipe may not be the most authentic — I can't say I consulted a single Provencal source while developing it. But tastes the way I remember it tasting that summer. And this soup still says "home" to me.
Soupe Au Pistou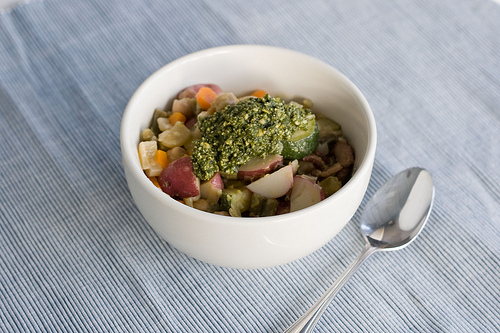 A summer vegetable soup with pesto
Ingredients
For the soup:
2 medium leeks
3 stalks celery
2 medium carrots
3 slices bacon
2 Tablespoons olive oil
1 pound small red potatoes
4 cups chicken broth
6 cups water
2 zucchini
1 can chick peas, drained
1 Tablespoon Herbes de Provence
½ c. small pasta
Salt to taste
For the pistou:
4 oz basil, leaves only
¼ cup pine nuts
2 ounces parmesan
¼ cup olive oil
Salt to taste
Instructions
For the soup:
Clean and dice the leeks, celery, carrots and potatoes into approximately ½ inch pieces or slices, as the case may be.
Slice the bacon into 1 inch slices, and in a large pot, cook the bacon until mostly crisp.
Add the olive oil and the vegetables, and saute over medium heat until the leeks and carrots start to get a little tender, then add the chicken broth and water, add a pinch or two of salt, cover, and simmer over medium low heat for about 30 minutes, or until the potatoes can be pierced with a fork.
Meanwhile, cut the zucchini into ½-1 inch pieces, and when the potatoes are starting to get tender, add the drained chick peas, the zucchini, and the pasta (I used small elbow macaroni, but ditalini or any other small soup pasta would work). Bring the mixture to a boil and cook until the pasta is cooked through. Salt to taste.
For the pistou:
Combine all ingredients in a food processor, and process until it forms a smooth paste. (You can also use commercial pesto).
To serve, ladle the soup into large bowls, and top with a large spoonful of pistou. Allow diners to stir it in themselves.