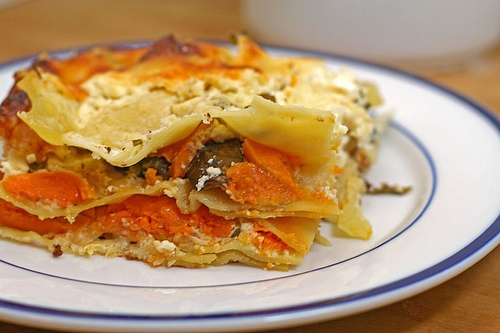 My early encounters with sweet potatoes were of the Thanksgiving variety – candied from a can and topped with marshmallows and tooth-achingly sweet. I was not a big fan. I wanted dessert for dessert, and not for dinner, and if I was going to have dessert, I wanted it to be something good, like chocolate, or at least pumpkin pie.
It wasn't until I was all grown up and had my own kitchen that I discovered the myriad and delicious uses to which sweet potatoes could be put. (And when I say sweet potatoes, to be clear, I mean thin reddish skin, orange flesh. Sometimes called yams. To be distinguished from the white fleshed sweet potatoes you find in Japan and the Caribbean, and "true yams"). Baked with a little butter and salt, mashed with garlic, or cut into French fries, sweet potatoes offered that lovely caramel sweetness that stands up so well to savoury applications. (I'm still no fan of the sweet with sweet. Unless you are talking about sweet potato pie, which is properly served as a dessert, or the sweet potato cake served up by my husband's Southern grandmother. My contribution to Thanksgiving is a spicy sweet potato gratin. My grandmother has a conniption about the departure from tradition and then eats it with gusto.)
This lasagna takes the noble sweet potato out of the category of "side dishes" and into the main course, where it rightfully belongs. The goat cheese and basil add a little piquancy to counter the mellowness of the sweet potato flavor, and the mushrooms add an extra oomph of umami. It's very easy and quick to put together, although it does require some time in the oven. Total prep is about 20 minutes though, excluding cook time.

You start by taking three smallish sweet potatoes, peel them, and slice them into slices approximately ¼ inch thick. In a large bowl, mix olive oil with minced garlic and salt and pepper. Toss the sweet potatoes and 4 oz. sliced mushrooms in the olive oil, then spread them on a cookie sheet (lined with foil if you're smart) and roast in the oven for 20 minutes.
While your vegetables are roasting, mix cream cheese, ricotta, and soft goat cheese (you can use the same bowl with the garlic and olive oil without having to wash it – see, I'm always saving the environment). Mix them well with a wooden spoon, then add minced garlic, chopped fresh basil, and salt and pepper to taste.
Now it's time to build the lasagna! I use no-boil noodles because I'm lazy like that, but if you use boiled noodles boil them according to the package instructions, and bake for a little less time. Start by spreading ¼ of the cheese mixture on the bottom of a 6X10 glass dish. Top with 3 lasagna noodles. It's OK if they overlap, and if they don't quite fit, just break them off so they do.
Then top with ¼ cheese, ½ sweet potatoes and mushrooms, 3 noodles, ¼ cheese, ½ sweet potatoes and mushrooms, 3 noodles, then ¼ cheese and finish it off with mozzarella. The layers will be (from the bottom) cheese, noodles, cheese, sweet potatoes, noodles, cheese, sweet potatoes, noodles, cheese, mozzarella. Got it?
Cover tightly with aluminum foil, and bake at 400 degrees for 45 minutes. Uncover, and bake for an additional 15 minutes until the mozzarella is nicely browned. Serve warm.
Sweet Potato and Mushroom Lasagna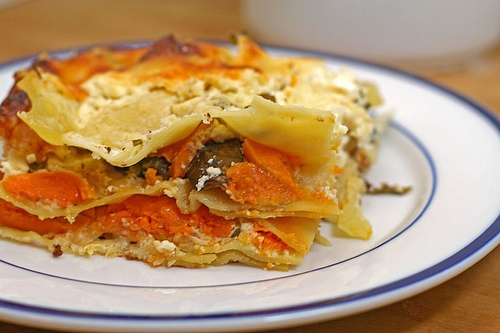 Ingredients
3 small sweet potatoes
4 oz. sliced cremini mushrooms
2 T olive oil
3 cloves garlic
15 oz. ricotta
8 oz. cream cheese
5 oz. goat cheese
¼ c. chopped basil
9 no-boil lasagna noodles
3 oz. grated mozzarella
Instructions
Preheat oven to 400.
Peel and slice the sweet potatoes. In a large bowl, combine the olive oil, 2 cloves garlic, minced, and salt and pepper to taste. Toss in the sweet potatoes and the mushrooms, and bake on a foil-lined cookie sheet for 20 minutes.
While the vegetables are roasting, mix ricotta, cream cheese, goat cheese, basil, 1 clove garlic, minced and salt and pepper to taste.
In a 10x6 lasagna pan, spread ¼ cheese mixture, then top with 3 noodles, add ¼ cheese mixture, then continue to layer with ½ sweet potatoes, 3 noodles, ¼ cheese, ½ potatoes, 3 noodles and ¼ cheese. Top with mozzarella.
Cover tightly with foil and bake for 45 minutes at 400 degrees. Remove foil and bake for an additional 15 minutes.
For a weeknight, the sweet potatoes and mushrooms may be roasted in advance and added to the casserole after being refrigerated all day. Likewise, you can build the lasagna, keep it covered in the refrigerator, and then bake when you get home. Add an extra 10-15 minutes to baking time if you're baking a chilled lasagna.