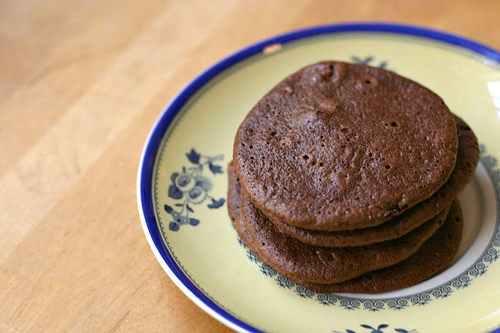 It has been one of those weeks. You know what I mean. I have approximately sixty deadlines at work, my house looks like a tornado hit it, and that tornado takes shape in the form of a lovable monkey of eighteen months who is either on top of the dining room table, having scaled it in a superhuman feet of agility, or is wandering around the house with my favorite cooking tools clutched in her hot little hands (I found my basting brush in the shower this morning.) In short, it's one of those weeks when only chocolate will do (well chocolate and a nice, stiff drink) and when I say chocolate I don't mean just any chocolate, I mean CHOCOLATE, and did I mention that I need it now?
Enter chocolate truffle cookies. Even the name makes my shoulders unclench. A few ingredients which live in my pantry, a few stirs (you don't even need the stand mixer for this one), a few minutes in the oven, and blissful chocolate goodness is at my fingertips.

You start by melting chocolate (chocolate chips will do in a pinch, which this, of course is, but feel free to use schmancy chocolate) with butter and cocoa in the microwave. Cocoa adds an intensity to the chocolate flavor that chocolate alone won't do, and chocolate adds the richness. To melt chocolate in the microwave, start with 30 seconds, then take out the bowl and stir and stir. If there are still bits of unmelted chocolate (after you've stirred – the stirring is important) microwave for 10 seconds more, then stir some more. You don't want to overcook the chocolate and have it seize, but the stirring helps the hot chocolate melt the rest, so don't forget to stir.
Add an egg, and just a little bit of flour and a touch of baking powder. Stir it all together – the batter will look like batter, rather than dough, and you will think you need to add more flour, but really all you need to do is curb your impatience and put the bowl in the refrigerator for ten minutes or so. (While the dough is chilling, you might want to distract yourself. A glass of wine would not go amiss at this point. Neither would preheating the oven).
Scoop out the dough with a spoon and drop it into a cookie sheet lined with parchment paper (I cannot live without this stuff. I'm a parchment junkie. I have a silpat somewhere but parchment is my true love). They will spread, so take that into account when you're spacing the cookies.
Bake 8-10 minutes, and let cool on the pan for at least five minutes before you dig in.
These are just — what chocolate is supposed to be. They look unremarkable from the outside – just a plain old chocolate cookie, but the low flour combined with the chocolate and the cocoa make them the hit of chocolate that sometimes you really, really need.
I feel better already.
Chocolate Truffle Cookies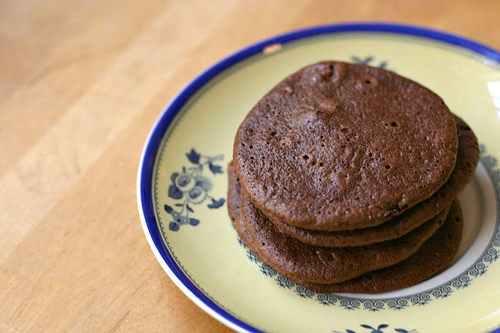 Ingredients
¼ c. flour
¼ t. baking powder
2 eggs
⅔ c. sugar
2 T coffee
1 t. vanilla
3 oz. salted butter
5 oz. chocolate chips
6 T cocoa powder
Instructions
Melt chocolate chips, butter and cocoa together in microwave (Nuke for 30 seconds at a time, stirring between each session, until smooth. Don't overnuke.)
Beat eggs briefly, add sugar, vanilla and coffee, Mix until thoroughly combined.
Fold in chocolate, then fold in flour and baking powder, and stir until the baking powder is thoroughly incorporated and no lumps remain (because nothing is grosser than a lump of baking powder in your cookie).
Chill about 10 minutes in the refrigerator. Drop by tablespoons on parchment-covered cookie sheets, bake at 375 for 8-10 minutes, cool on the pan.