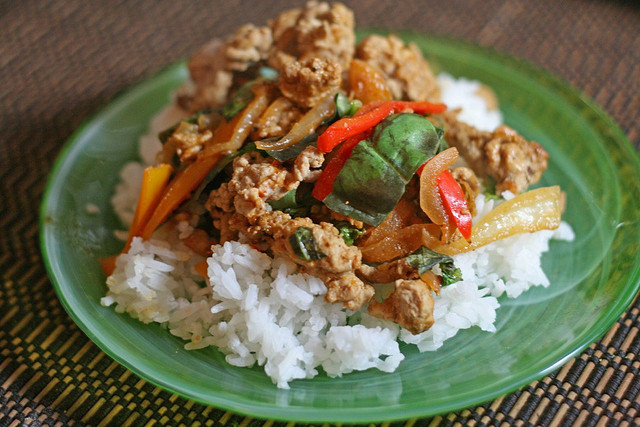 I have a rich fantasy life, and I'm not ashamed to say that a large part of it revolves around the kitchen. In my fantasy life, I have a huge sunny kitchen, and a window sill filled with fresh herb plants. I can start dinner every day at 2 pm, and cook delicious food slowly from scratch out of healthy ingredients while singing folk songs and having a lovely and delicious conversation with my obedient child who is coloring happily at our enormous farmhouse kitchen table while I cook. Oh, and the dishes magically wash themselves. (Hey – I said it was a fantasy).
Sadly, reality often intrudes. My kitchen is neither large nor sunny, my herbs live outside (well tended by my lovely husband), my child is more likely to be coloring on the table than coloring at the table and conversation is often punctuated with shrieks (her new trick) or "Up pee! C, D, E." (She often conflates the alphabet with saying "up, please".) I'm rarely home on a weeknight before seven, at which point it is imperative that I have a tickle fest with the Nuni (hey, I didn't say reality was all bad) and by the time I actually make it into the kitchen I just want to get dinner on the table as quickly as possible. Fortunately, with this Thai Style turkey (which is frequently featured on the menu chez nous), I don't have to give up delicious food cooked from scratch out of healthy ingredients. I can even sing, but to be frank, my repertoire usually features "She'll be Coming Round the Mountain."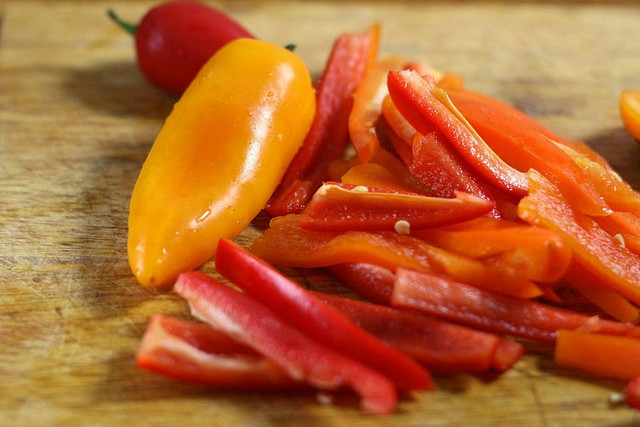 It's not really a recipe so much as an idea. You slice up a bell pepper (in these photos I used mini sweet red and yellow peppers because they're pretty) and an onion and sauté in a little olive oil until they start to get soft.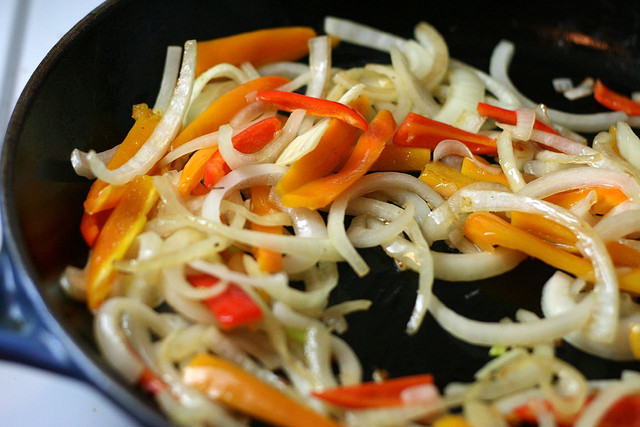 Add ground turkey, and brown with the peppers and onions. When the turkey has browned, add Thai fish sauce, a couple spoonfuls brown sugar, a few squirts of sriracha, and the juice from 1 lime. Add enough liquid that there's some juice in the pan. (It's also helpful to use ground turkey, and not ground turkey breast).
Stir together and cook until the turkey is done, then add a handful of fresh basil leaves (Thai basil, if you have it).
Serve over rice, with a salad made from shredded cabbage and seasoned rice vinegar, or just eat it plain.

Ten Minute Thai Style Turkey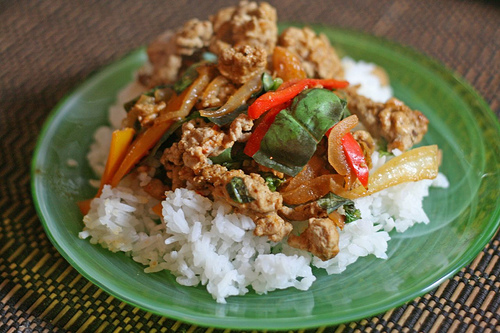 Ingredients
2 T olive oil
1 red bell pepper
1 medium onion
1 lb ground turkey (I use regular – I think it's moister than the breast, but it's also higher fat)
3 T fish sauce, or more to taste
1.5 T sriracha, or more to taste
2 T brown sugar
Juice of 1 lime
½ c. fresh basil leaves
Instructions
Slice the onion and pepper into slices or strips. Sauté in olive oil over medium heat until softened. Crumble in the turkey, and brown the meat. When the meat has browned, add the fish sauce, sriracha, sugar and lime juice, and cook until the turkey is cooked through. Add basil and serve.
Notes
(Keep in mind these amounts are totally approximate – I just throw the condiments in, and taste it and add more of whatever's needed (hot, sour, salty, sweet)