It's hard to deny that 2011 has been a pretty shit year for my family.  We lost my dad in January, our dog in March, and my grandmother just this past September.  The Nuni and I were hit by a truck in April (fortunately, we were both OK, but our car was totaled).  So it's nice to have a day set aside for reflecting on what we have to be grateful for.
I spent most of the day in the kitchen (making spiced cranberry sauce, sweet potato gratin, kale with cream, pancetta and walnuts, buttermilk spice pie and chocolate pie.  This was added to turkey, gravy, mashed potatoes, pumpkin pie, creamed green beans, roasted brussels sprouts, homemade rosemary rolls, sage stuffing, fennel apple stuffing and jello salad provided by relatives for our feast), which is a great place to reflect on my blessings.  I am lucky to have a comfortable house in a beautiful town, a job that allows me to pay for said house and said food, a very loving dog to clean up any food I drop on the floor, and a blog that gives me a creative outlet and even occasionally allows me to be helpful.
But most of all I am thankful for my family.  I am blessed to have a loving and close extended family (who are great cooks!) a close friendship with my mother who lives nearby, a loving and helpful and funny husband who is still my best friend and favorite adult after 13 years together, and a daughter who daily delights, amuses, and surprises me.
And I am also thankful that in May, if all goes according to plan, that family will be expanded by one.  This is Roo.  He or she is currently approximately the size of a large lemon, and moves just like the Nuni does.  You may have noticed that I've been a little quiet lately — I've been battling morning and evening sickness and exhaustion, but we seem to be past the worst of that (knock on wood) and I'm thrilled to share this with all of you.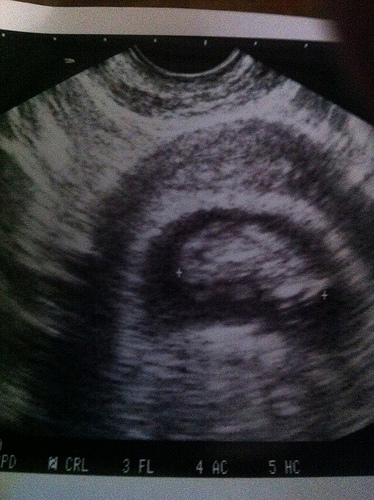 Happy Thanksgiving indeed.