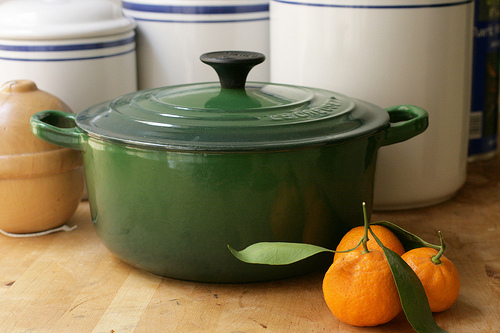 Nothing frustrates me more than visiting someone's house and seeing their beautiful kitchen, decked out to the nines, and stocked with the latest pristine, unused cookware. I compliment them on it, and the person says, "Oh thank you. But I never cook." What a waste of good tools. On the other hand, I also see the kitchens of people who really love to cook but don't have the right kitchenware, which is also frustrating. I think to the words of the great comedian, Eddie Izzard, who said "'Guns don't kill people, people do,' but I think the gun helps, you know? I think it helps. I just think just standing there going, "Bang!" That's not going to kill too many people, is it?" Having great tools isn't going to make you a great cook, but it's certainly going to help make cooking a more pleasant and successful experience.
That's why I wanted to write a series of posts about the tools and cookware in my kitchen that I just love. If you're looking to buy some new kitchen accessories, or you're building a wedding registry or equipping a new kitchen, I hope this guide will give you some ideas of what kinds of kitchen tools would be useful.
I'm starting the series with the backbone of the kitchen — pots and pans.


Le Creuset Signature Enameled Cast-Iron 3-1/2-Quart Oval (Dutch) French Oven, Cherry

Of all the pots in my kitchen, my Le Creuset french ovens are the most treasured (which is why they feature so heavily in the design of this blog.) They cook evenly, clean beautifully, and work in the kitchen or on the table with equal aplomb. I have 4 different french ovens in 3 different sizes, but of all of them, the oval 3.5 quart gets the most use. I use it for everything from making stew to baking bread, boiling pasta or making caramel. The oval shape will fit a small roast or chicken for braising, and the 3.5 quarts is the perfect size for a small family. There are several brands of enameled cast iron on the market, but I am loyal to Le Creuset — the craftsmanship is excellent, and the light interior is incredibly useful when you're judging the color of sauces or caramels — something that would be impossible in the more common black interiors. If you're registering for a wedding or looking to upgrade your kitchen, this is what I would get.

Glass Rectangular Baking Dishes, 2 quart and 3 quart size

Glass dishes like these are the real workhorses of my kitchen. I have two — the larger one is perfect for larger casseroles, sheet cakes, and roasts, and the smaller gets pulled into use for brownies, vegetables and even gratins. They clean easily and look nice enough to be used as serving pieces.

Calphalon Everyday Pan with Lid

Calphalon knew what it was about when it Christened this pan the "Everyday Pan" — this pan comes out all the time. It's moderately nonstick and can go from stove to oven — I use it for frittattas, casseroles, gratins, and braises. This is the pan that stands in for a wok in my kitchen, and the large size, combined with the lid, makes it incredibly versatile.

Aluminum Half Sheet Pan

I used to have any number of different cookie sheets — nonstick, those funky air pans, pans with different sizes and shapes — but once I tried a commercial grade aluminum half sheet pan I was sold. These things are solid and heat evenly, which means your cookies will cook better and more evenly. They nest nicely and can even be used to make a roulade cake if you're braver than I am.

Glass Pie Plate

Cook's Illustrated did a test years ago that said pies browned better in a glass pie plate than in a metal one, and far be it for ME to contradict Cook's Illustrated. A glass pie plate also looks nicer and is more multipurpose — you can roast small amounts of vegetables in it, or bake a single chicken breast. It's also an excellent cover for a bowl if you want to steam vegetables in the microwave. See? A real multitasker.

Cast Iron Skillet

Oh, my cast iron skillet, how I love thee. The virtue of a cast iron skillet is that it gets Really, Really hot, so it's pretty much essential for cooking something like steaks indoors. It also goes from stovetop to oven, so you can use it for searing meats and finishing them in the oven, and of course, what would cornbread be without a cast iron skillet to cook it on? People get intimidated by the seasoning process, but it's just created by hot fat — if you roast a few chickens (I always roast chickens in a cast iron skillet) and fry some bacon in your skillet, it will be seasoned plenty quickly. The one I have is the Le Creuset one pictured — because it's enameled on the outside, it's not subject to rust on the less seasoned surfaces, but if your budget won't stretch to that one (mine was a gift) you can also get the Lodge 12 inch cast iron skillet
, which is one of the best cooking values out there.

Commercial 9-Inch Round Cake Pan

If you're going to make a layer cake, you're going to need a cake pan, and a 9″ is the standard size for most recipes. A lot of the cake pans you see have sloping rims, which makes the pans easier to store because you nest them. However, if you try to stack two sloping rimmed cake layers, you end up with a big fat mess (or a lot of trimming). A straight sided pan, like these inexpensive ones, is the first essential step in making pretty birthday cakes and layer cakes.

7-Ounce Ramekins

Ramekins are the jack of all trades in our kitchen. They get used as prep bowls, custard cups, individual souffle cups, pudding cups and even cereal bowls. There are some things that are too dangerous to make big servings of, and that's where ramekins are essential.
Do you agree with this list? Disagree? Think I've left something out? What are your favorite kitchen cookware?
Next in the The Domestic Front Kitchen Series: Cooking Tools