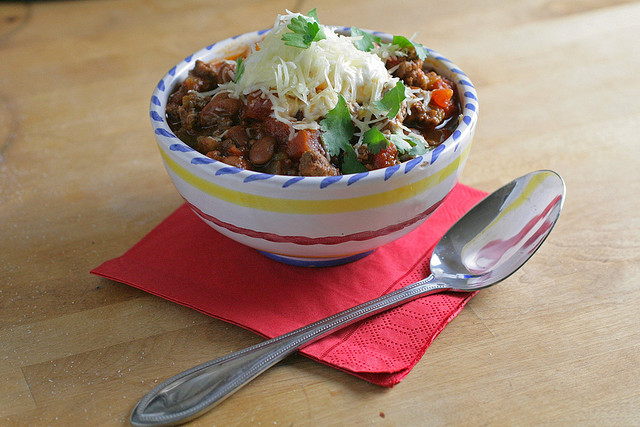 I don't come from a place where chili is a thing. Heck, I'm from California — we put barbecue chicken on pizza. We don't have things. What this means is that I don't have firm and fixed ideas about what should and shouldn't be in chili, and as a result, I've tried many a chili recipe over the years. I've tried white chicken chili, turkey chili, chili con carne, chili without beans, vegetarian chili, what was supposed to be Cliff Huxtable's super spicy chili from the Cosby Show, and even a really weird one from epicurious that had green olives and raisins (which wasn't bad, it just wasn't chili. I may not be a firm con carne or con frijoles person, but I feel about chili the way the Supreme Court feels about pornography — I know it when I see it).I never really settled on THE chili — the one that becomes my go to recipe, that I make again and again — until I found this chili. It presents a mild heat without bowling you over with spiciness, it has beans, which I like, and meat, which I also like and it has tomatoes without being a tomato stew. Best of all, it is easy as pie to make and can be made in the crockpot, which means all I have to do is chop an onion and brown a little ground beef in the morning, dump it in the crockpot with several cans and spices, and I have a nice bowl of chili waiting for me when I get home. It's also great for a Super Bowl party — hearty and warming, and there's no last minute fuss to prepare it when your guests arrive.


Now that I've found this chili, it's the one I keep coming back to. Occasionally I look at other chili recipes, and I may even try one someday (but not with raisins!) but this has become what chili is.
The One I've Been Waiting For -- Easy Slow Cooker Chili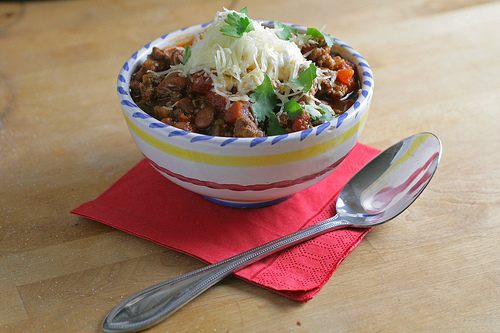 Ingredients
Recipe: Easy Slow Cooker Chili
Summary: This easy crockpot chili is my go-to recipe. Adapted from Not Your Mother's Slow Cooker Cookbook.
Ingredients
2 lbs ground beef (I used organic grass fed beef, but this can also be replaced with ground turkey)
1 large onion
2 cloves garlic
1 15 oz. can pinto beans, drained
2 11.5 oz. cans Ro-Tel (When I lived in New York, where Ro-Tel isn't, I'd see this in recipes and wonder what the hell it was. It's canned diced tomatoes and green chiles. If you don't have Ro-Tel, you can use 2 cans diced tomatoes and add another can of diced green chiles, below.)
1 6 oz can tomato paste
1 4 oz. can diced green chiles
¾ c. beer (light beer, like Corona, but sometimes I make it with dark)
2 tsp chili powder (I use Penzey's Chili 3000 blend, but any blended chili powder will do)
1½ tsp. ancho chile powder
1 tsp cumin
salt to taste
Instructions
Chop the onion and mince the garlic.
Brown the ground beef with the onion and the garlic until no pink remains.
Put browned meat with other ingredients into crockpot or slow cooker, give it a good stir, and leave to cook on low for8-9 hours or high for 4-6. (I think it's better when it's cooked on low, and even better if you eat it the next day).
Serve to your Super Bowl watchers topped with an option of sour cream, shredded cheddar cheese, chopped cilantro, diced onions and crumbled tortilla chips with a nice cold beer and watch it disappear.