So Christmas shopping is underway. Maybe you're a crazy organized person, and you're totally done. Or maybe you're like the rest of us, and you're still hunting. Here are a few things I happen to love that will hopefully spark your imagination! Also check out The Gift Giver's Guide to Scotch Whisky, The The Domestic Front Kitchen: Essential Cookware and Bakeware, The The Domestic Front Kitchen: Essential Kitchen Tools, Stocking Stuffers for Foodies and Cooks and Eight Great Board Books to Read with Your Child. I've also been pinning more ideas on Pinterest
(Disclaimer — I participate in the Amazon Affiliates program and receive a (very) small amount of money if you buy through one of these Amazon links. Other than that, no sponsorships or agendas.)

For the cook in your family who has everything, except this:

Classic Home Desserts: A Treasury of Heirloom and Contemporary Recipes
by Richard Sax
This may be my most favorite dessert cookbook. It's hock full of not only great recipes, but historical recipes, literary allusions, tips on techniques and bits of trivia. It fully deserves to be a classic, on every shelf cookbook, and yet it's not. Introduce it to someone new, who will love it dearly.
For the hipster who is always on the cutting edge of cool:

Fee Brothers Bar Cocktail Bitters – Set of 6
Bitters are the new black. The shortcut to artisanal cocktails, and impressive in any bar.
(If you really love your hipster, buy them the Complete Set of 12 Fee Brothers Bitters
)
For the creative kid with literary aspirations:
We favor the board books in our house, but if your budding author is more literary than artistic, there are blank books with pages, too.
For the design maven who is also a bibliophile:


Penguin 75: Designers, Authors, Commentary (the Good, the Bad . . .)

Because what is more classic than Penguin Book Covers? Nothing, that's what.
For the newest urbanist:


MUJI New York in a Bag
New York! But without the smell or the crowds, and you can ALWAYS FIND A TAXI. I want this myself.
For your favorite wonky politico:


The Signal and the Noise: Why Most Predictions Fail but Some Don't
by Nate Silver
Obama Schmobama, the real winner of the 2012 election was statistics. And Nate Silver.

Something Sweet for someone sweet:


Little Flower Candy Company Caramels
These are locally made (local to me, that is) and utterly delicious. (If you love them, which you will, I also recommend the cookbook Little Flower: Recipes from the Café
)
The Book of Myself A Do-It-Yourself Autobiography In 201 Questions
Because you want to get those stories while you can.
For the holiday housewarming gift: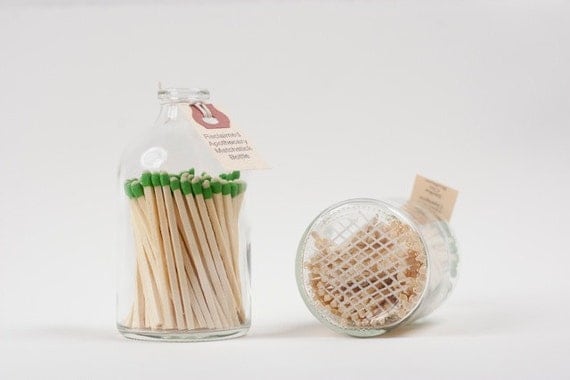 Apothecary Matchstick Jar
The genius of this is that the bottom is scored so you always have a place to strike the match. Cute AND functional.  (PS: get it?  house warming?)
For the person who is conflicted about the digital revolution:


Verso Prologue Cover for Kindle
I LOVE books. I love the feel of them, and the heft. But I also LOVE getting my digital library books from my couch and never having late fees. The verso covers look like gorgeous books and offer the sensual feel and smell of real leather, but hold your Kindle. (There's a version for the Kindle Fire
, too. And if you like a slightly more modern look, this is the one I actually have
)