It has been a while, hasn't it?  My pace of reading has slowed again, because knitting (and Christmas knitting, which was a whole other ballgame) but also because I delved into some more serious/ambitious books than I had read earlier in the year.  Since we're now diving into 2016, I also thought I'd sum up my top 10 books of 2015.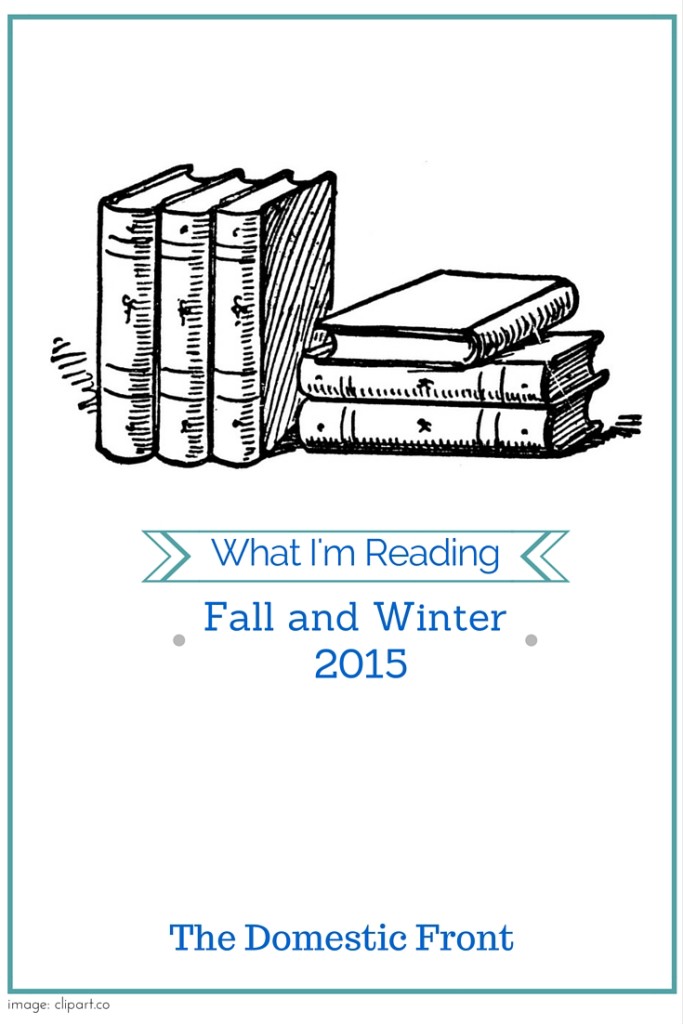 The Girl With All the Gifts by M.R. Carey
This is a great, creepy, scifi post-apocalyptic book that ends up having quite deep things to say about survival and prejudice.  Highly recommend.  SPOILER ALERT:  It's a zombie book, and I'm not usually into that type of books, but his one was great.  Exciting, insightful, and lots of fun.  

I Don't Know What You Know Me From: My Life as a Co-Star by Judy Greer
You know Judy Greer from the Village.  Or 13 Going on 30.  Or Arrested Development. Or one of the million movies and TV shows she has been in.  I like Judy Greer, it's interesting to read a memoir about someone making a living in Hollywood who isn't a huge movie star, but the memoir is only OK.  If you're in an airport bookshop and looking for something to while away the time, sure, pick this up.  It's decently written and relatively interesting.  But it's not a must-read.

Plant Dreaming Deep by May Sarton
I had never read anything by Sarton, but this journal of renovating her New England house and garden and becoming part of the community, is an interesting place to start.  If you are interested in the home and its role in our lives, this is a good read.  Sarton is certainly a gifted writer.    The book is very calming, too.

Brother of the More Famous Jack by Barbara Trapido
Do you happen to like witty, British coming of age novels with fascinating characters and a lovely, if disheveled protagonist? You might like this one.  Originally published in 1982, this book still feels fairly fresh and relevant today, if notably lacking in technology.  The characters are compelling and deftly drawn, and the dialogue is wonderful.  This isn't a SERIOUS book, but if you like I Capture the Castle, the films of Richard Curtis, or English people, academics, and a touch of raciness, you'll love this book.

The Girl on the Train by Paula Hawkins
This was the zeitgeisty book of the summer, and since I didn't read Gone, Girl, I thought I'd read this.  It was a compelling page turner.  It was also pretty bad.  The characters were not only unlikeable and flawed, but stupid, too.  The writing also wasn't great.  I kind of wish I had read Gone, Girl, instead.


A God in Ruins by Kate Atkinson
After the Girl on the Train, I wanted to read something that was well-written, and Kate Atkinson never disappoints.  A follow up to Life After Life, this is the story of Teddy (the brother in Life After Life), in his time as a WWII fighter pilot and in his life after the war, with its disappointments, and pleasures (but spoiler:  mostly disappointments).  This doesn't have the same avant-garde structure as Life After Life, and I think a lot of (female) fans of LAL didn't love it as much in part because Teddy is less relatable (and the women in this book are generally kind of awful or enigmatic) but I thought it was still a gorgeous book.   A bit spare and austere, but the descriptions of the RAF sorties were so vivid they made you ache.  I recommended this book to my husband, who likes Kate Atkinson and WWII pilots – and I think it might like it better than Life After Life, even if I didn't, quite.

Kitchens of the Great Midwest by J. Ryan Stradal
This book is very "Ooh, the Midwest isn't just flyover states!  And the food is really good."  But it's a bit too try-hard.  Also, I didn't warm to the structure, which was a series of vignettes of people all tangentially related to the central character, who becomes somewhat enigmatic.  Unfortunately, she is by far the most interesting character, and I wanted more of her in the book, fewer of the random assorted people who touched her life.   I know people who LOVED this book, but it didn't work for me.


Another Marvelous Thing by Laurie Colwin
You know I am an undying fan of Laurie Colwin, and when I realized I never read this book, I thought I had to.  It was not my favorite of Colwin's short story collections.  It wasn't written as a collection, but collections of published short stories, if that makes sense, although the characters had continuity.   I'd rather read The Lone Pilgrim
for short stories or any of her novels.

Ready Player One by Ernest Cline
This book was SUPER fun.   Set in a dystopian future (note to writers: Can you please envision a future in which we've SOLVED the energy and food crises and everything is hunky dory like the Jetsons? Kthxbye) in which almost everyone prefers to interact within the confines of a virtual reality world invented and created by a Steve Jobs type (there's also a Wozniak – the parallels are pretty clear).  Anyway, Steve Jobs (who is not ACTUALLY Steve Jobs in the book, but the character in the Steve Jobs role) has died and left an Easter Egg in the virtual reality world, and whomever finds the Easter Egg wins control of the world.  Here's the kicker:  He's a huge 80's fan, and in order to find the Easter Egg you have to be up on 80's video games and pop culture.  Even if you're not a gamer, the hunt is fun and the world convincing. The baddies are bad and there are some genuine surprises.  It kept me into it and it felt fresh. A great beach read, too.

My Brilliant Friend by Elena Ferrante
Elena Ferrante is the it girl – nobody knows who she is (she never gives in person interviews, and it's widely believed that Ferrante is a pen name) but her books are almost photorealistic stories of two girls growing up in Naples, Italy, in the 1950's.  This is the first book in a series, and the detail is quite breathtaking-  Ferrante is describing a world so real you believe it (maybe it is real – nobody knows).   She describes the push pull friendship of two girls – Elena and Lila – and how they interact with each other and the working-class Neapolitan society in which they grow up. It's not a nice story – 1950's working-class Naples isn't exactly kind to women, and the influences of the mafia are pervasive, but it's told so thoroughly that you are totally immersed.  Did I love this?  I don't think so.  I don't know.  It's almost a book that you experience more than read.  But is it worth reading?  I think yes.

Fates and Furies by Lauren Groff
This book.  I thought it would be a he said/she said story of a marriage, in all its mundanities.  I was prepared to hate the main characters and the hipster tweeness of their names – Lotto and Mathilde.  But this book subsumed me despite myself.  Yes, the story of a marriage told from two different perspectives, but far from mundane.  The writing is lush, and this is a book that did suck  all the air out of the room for me – when I finished I was disoriented, in a different world.  Not quite magical surrealism, but a step beyond realism – this book really did knock my socks off.  I was even persuaded on the Lotto and Mathilde-ness of their names.


Ana of California by Andi Teran
This is a retelling of Anne of Green Gables set in the present day in a California farming community.  I did like it – Anne of Green Gables is the literary heroine of my childhood – and anything that calls her to mind resonates with me.  Teran doesn't have the same lushness of language that Montgomery used – which probably makes it more accessible, but how many of us Anne-girls have a detailed picture of Avonlea in our minds?  And I did NOT like the ending.


Circling the Sun by Paula McClain
This was great.  You've probably never heard of Beryl Markham, but she was pretty badass.  Grew up in British-controlled Kenya in the early decades of the 20th century, became the first woman in Kenya or England to get her English horse trainer's license.  First woman to fly west to east across the Atlantic.  Married and divorced three times.  Friends with Isak Dinesen (who features prominently in this book).  Wrote "West With the Night" which was praised by Hemingway. Paula McClain is fantastic at recreating worlds – the Paris Wife did take us right into the 1920's Paris of Hemingway and Gertrude Stein – but Markham is a much more worthy and compelling subject than Hadley Hemingway, and Colonial Kenya is a pretty fascinating world to recreate.  Definitely worth a read.
Top Ten Books of 2015
And now, my top ten favorite books of 2015 (not including cookbooks) in order read, not order of enjoyment:
A Brutal Telling and Bury Your Dead (2 books, but one story)
Station Eleven  (Probably my favorite book of 2015)
What were your favorite books of 2015?