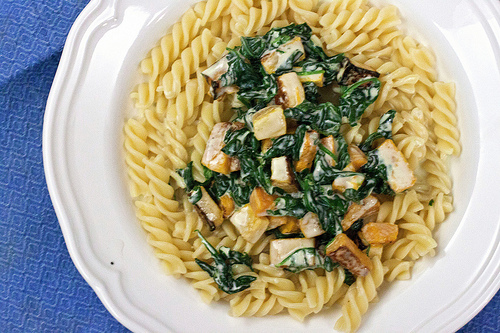 I have resisted pasta for many years. Other people can't get enough of it – I could take it or leave it. But life in our household has been pretty crazy lately, and I have been embracing pasta as a way to get dinner on the table relatively quickly instead of having to resort to eating crackers (It's happened) so a quick pasta recipe seemed perfect.
I think the problem is I'm not really a fan of traditional spaghetti sauce. My husband has taken to complaining that we never have a jar of spaghetti sauce in the house (he asked if we could make a bid for normalcy and just have a jar of Prego), while I've never felt the lack. Once I started to move away from the tomato sauces, pasta got a lot more interesting.


This one was inspired by  a gorgeous wheel of Irish Cashel Blue cheese that the kind folks at Kerrygold USA sent me.   I've been a fan of their grass fed butter for years, but I won a year's supply of butter and cheese at the Big Traveling Potluck and that has made be a convert to their amazing Irish cheeses.  They have several cheddar and cheddar type cheeses that are amazing, but my favorite is probably the Cashel Blue.  I shared the wheel with family members but immediately regretted it – I wanted more blue cheese for myself!  Even my mom, who has been a diehard French Roquefort snob for years said this is her new favorite blue.
Continue reading Pasta with Butternut Squash, Spinach and Cashel Blue Cheese