Chocolate Gingerbread, dense with chocolate, gooey with icing, with a spicy kick – what's not to love about it?  If you're looking for a tempting dessert for a holiday party, a potluck, a bake sale, look no further.  Part gingerbread, part moist chocolate cake, this easy cake recipe mixes in a flash and tastes divine.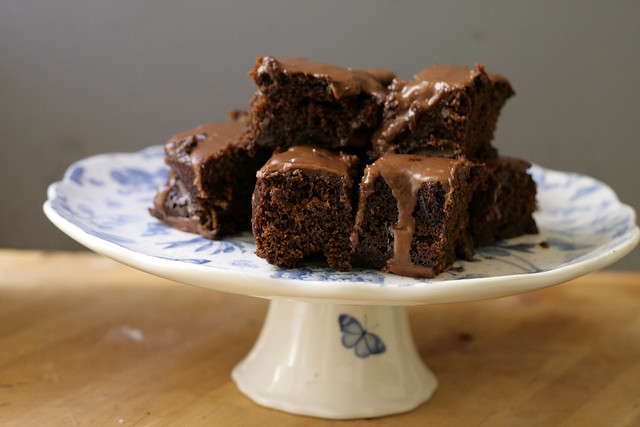 If you like to bake, as I do, and you like to eat, as I also do, you often get asked "What is your favorite dessert?" I rarely have an answer. Sometimes I feel like the cool creaminess of ice cream, and I'm more in a bread pudding mode. Sometimes the simple nostalgia of a chocolate chip cookie will do it for me, and other times I want something more elaborate, like a salted caramel macaron. Naming my favorite dessert is like asking a mother to name her favorite child. I'm not sure it can be done.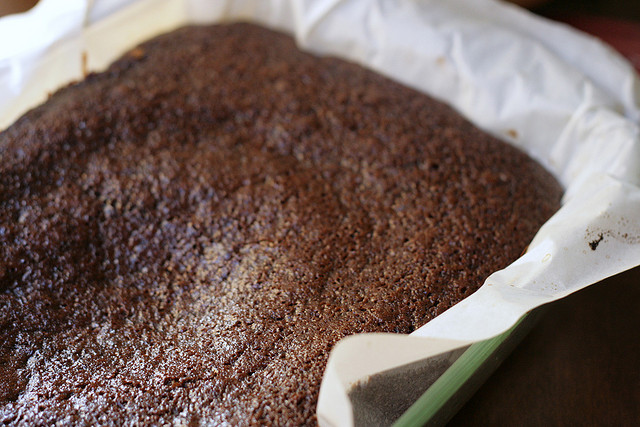 However, I've always had a soft spot for gingerbread — there's something so wholesome and old-fashioned about it. The very notion of gingerbread evokes images of Little Women or Mary Poppins, and baking it fills the kitchen with mouthwatering aromas. Although I think gingerbread is excellent year round, there's something about the holiday season that makes it especially appropriate. On the other hand, gingerbread is not what one would generally think of when contemplating a sinful, sticky, sweet and satisfying dessert. For that, you really need chocolate. But to combine the alluring dark sweetness of chocolate cake with the warmth and spice of gingerbread is to find dessert nirvana.

This chocolate gingerbread is my desert island dessert, my diet buster, my indulgence of choice. If I had to choose one baked good, this would be the one. Of course, it helps that it's almost ridiculously easy cake recipe to make. You melt the butter in a large saucepan and mix in the rest of the ingredients — stir with a wooden spoon and pop it in the oven. Once it's cooled, you top it with a simple powdered sugar glaze. And then you get to eat it. Rich with chocolate chips, dark with cocoa and redolent of ginger and cloves, with a drizzle of sticky sweet gingery chocolate icing — is your mouth watering yet? Mine is. And I just ate lunch.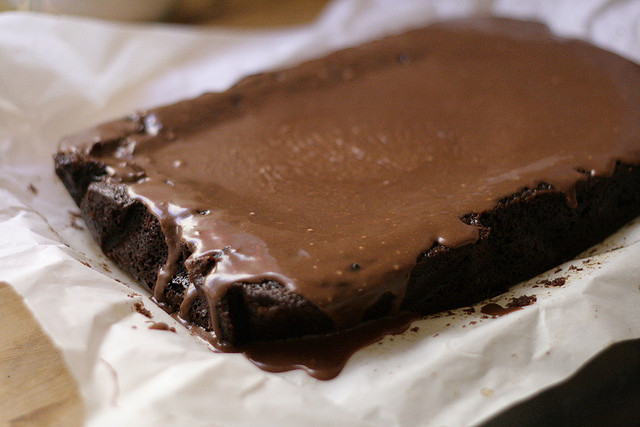 Let's just review this one more time. Chocolate Gingerbread.  Look at this and make your plans to start baking.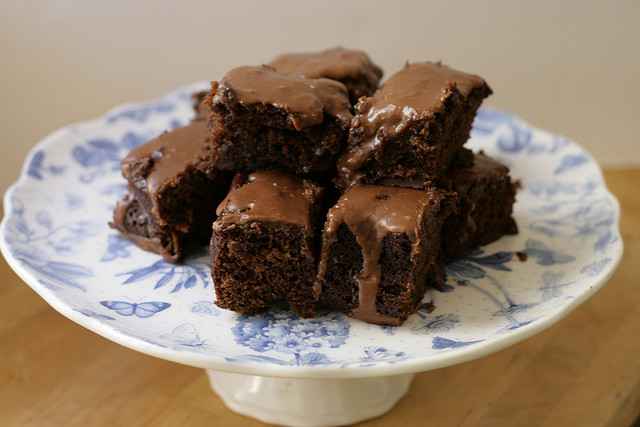 If this doesn't entice you, then I don't know what will.

Chocolate Gingerbread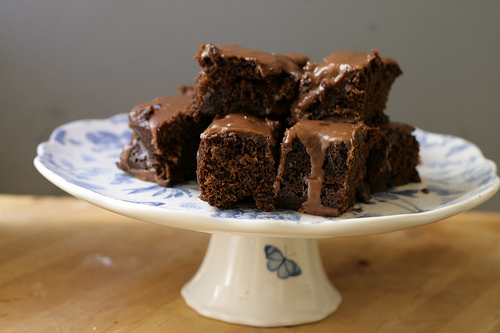 Ingredients
1½ sticks butter
1 c. + 2 T dark brown sugar
2 T granulated sugar
¾ c. golden syrup (In this recipe I usually use half and half light corn syrup and honey, instead of the expensive golden syrup, because its flavor is lost in the spices).
¾ c. molasses
¼ tsp ground cloves
1 tsp ground cinnamon
2 tsp ground ginger
1¼ tsp baking soda
2 T warm water
2 eggs
1 c. milk
2 c. flour
⅓ c. cocoa
1 c. chocolate chips
For Frosting:
2 c. powdered sugar
2 T butter
1 T cocoa
¼ c. ginger beer or ginger ale (the more flavor your ginger ale has, the more ginger flavor the icing will have. I like Reed's ginger beer or Vernor's ginger ale here).
Instructions
Preheat oven to 325. Line a baking pan (10X13 pyrex) with parchment paper.
In a large saucepan or dutch oven, melt the butter with the sugars, syrup, molasses, cloves, cinnamon and ginger.
Dissolve baking soda in water.
Take the saucepan off heat and add eggs, milk and soda/water mixture. Stir in flour and cocoa, reserving 2 T or so of the flour. Toss the chocolate chips in the reserved flour, then fold in chocolate chips.
Bake about 45 min until risen and firm. The middle should still be a little damp under the set top, and will sink a little. Cool in the pan.
While the cake is cooling, melt the butter, cocoa and ginger ale for the frosting. Whisk in the powdered sugar. Remove the cake from the pan, fold down the paper, and pour frosting over the cake. Let frosting set slightly, and cut into large slabs.
Notes
From Feast by Nigella Lawson