Sugar cookies can be boring.  Essentially nothing more than butter, sugar, flour and eggs, sugar cookie recipes – even easy sugar cookie recipes – often call for elaborate decorations – piping, "flooding", colored frosting and even painting – which make them a little less than easy.  The best sugar cookie recipe I've found doesn't need any of these elaborations.     It's a totally unique cookie – made with unsweetened yeast dough, rolled in coarse pearl sugar.  The resulting cookie is faintly chewy with a crisp caramelized exterior and bits of crunch from the sugar.  Try them, and you'll see that Arnhem Girls are the best sugar cookie recipe you'll ever taste.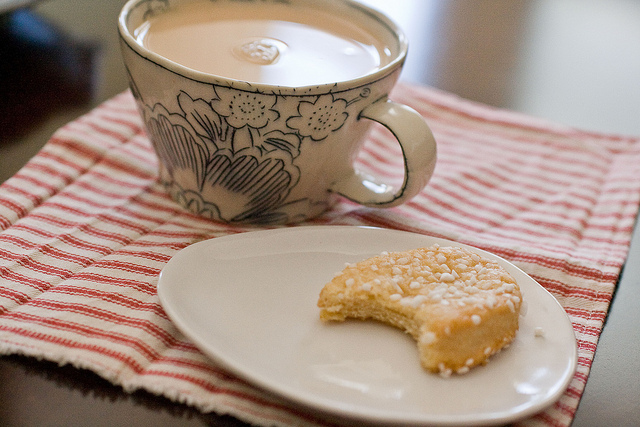 If you cook and bake a lot, cookie recipes all start to seem the same. Some variation of a basic dough, with flavoring to make the cookie stand out — oatmeal and chocolate chips, molasses and spices, chocolate chips and brown butter.  These are all fine cookies – delicious cookies – cookies worth making.   But it's rare to see a really unique cookie recipe.
I came across this recipe for Arnhem Girls or Arnhem Biscuits, a traditional Dutch cookie, years ago, when I lived in New York, in John Thorne's Pot on the Fire
. The description intrigued me, but what really piqued my interest was the source — Roald Dahl's Cookbook
, a memoir and cookbook written by the man who wrote Charlie and the Chocolate Factory
(i.e., this man knew, and loved, sweets). Dahl described the biscuits like this:
"It was flat and thin and oval, and crystals of sugar were embedded in the top of it. I took a nibble. I took another nibble. I savoured it slowly. I took a big bite and chewed it. The taste and texture were unbelieveable. This, I told myself, is the best biscuit I've ever eaten in my life. I ate another and another, and each one I ate only strengthened my opinion. They were simply marvellous. I cannot quite tell you why, but everything about them, the crispness, the flavour, the way they melted away down your throat made it so you couldn't stop eating them."
Color me intrigued. With such an evocative description and an unusual method, how could I not be? But, as with most recipes, I set it aside and forgot about it.
Fast forward 10 years, when I was reading Simon Hopkinson's Second Helpings of Roast Chicken
(a compulsively readable cookbook. I checked it out from the library and promptly bought it) a week ago, and I saw it again. The Arnhem biscuits, the evocative description. This time, I would not forget. This time, I pulled out the stand mixer and got to work.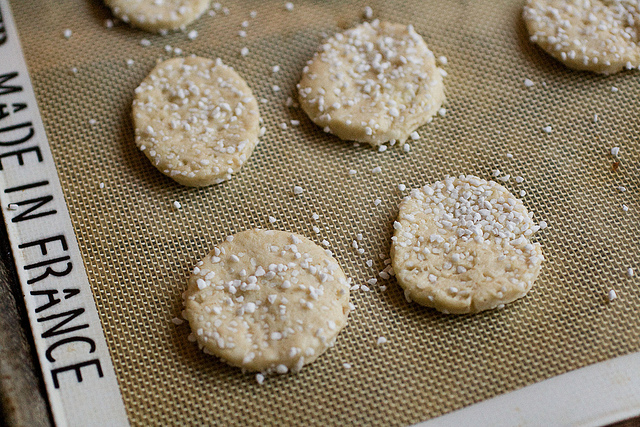 The dough is quite stiff — really flour and milk, brightened with just a whiff of citrus and leavened with yeast. If you're afraid of yeast, don't let that stop you from making this recipe — there's no proofing, no kneading, and the dough barely rises. The yeast provides just a little puff, and a lot of flavor. After mixing these together, you beat butter into the stiff dough (a stand mixer is definitely recommended) and refrigerate overnight. The overnight rest allows the dough to relax, the flavors to develop. So when you pull it out to roll it, all goes well. You roll this dough out on sugar instead of flour — the sugar crystals coat and become embedded in the dough. Coarse Dutch sugar crystals are the original recipe, but I used Swedish pearl sugar I happened to have (available on Amazon
, or at King Arthur Flour, or if you're in LA, at Surfas) and after tasting them, I'm not sure I'd go another way (if you want to try this and don't want to buy pearl sugar, I'd recommend a coarse, large crystal sugar like turbinado – and please report back!). You cut them out, place them on cookie sheets, and bake in a low, slow oven.
The flavor of these cookies is wonderful — faintly caramel, with butter and sugar and that yeasty aroma of good bread — but the star here is the texture. The coarse sugar creates alchemy in the oven — some of it melts, creating a crisp, crackly crust on the cookies, and some of it remains intact, creating an irresistible crunch. Couple that with the yeasty chew from the unsweetened bread dough, and you find yourself reaching into the cookie jar again, and again and again. I think these cookies are probably best the day they are made, but in our house, they all get eaten that day again.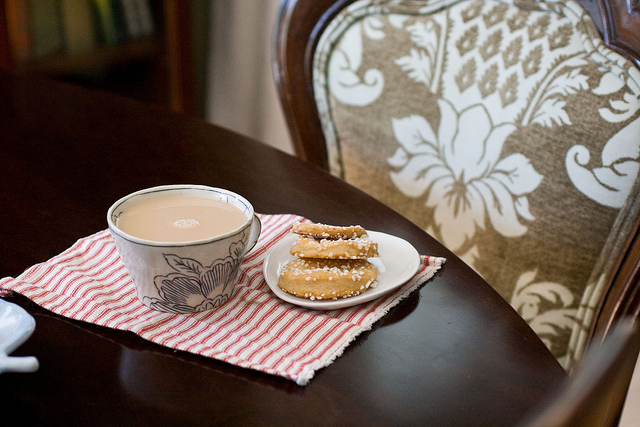 Go make them, NOW. Don't let this recipe languish for 10 years, as I did. You won't regret it.

Arnhem Girls -- The Best Sugar Cookies
These yeast-raised sugar cookies are the perfect cookie. Eat them the day they're made, which shouldn't be difficult.
Ingredients
1⅓ c. flour (I actually used 1 c. all purpose and ⅓ c. white whole wheat the first time I made them, which was nice)
½ c. milk
Few drops orange or lemon juice
½ packet active dry yeast (about 1 tsp)
4 ounces salted butter, cut into 5 slices
Swedish Pearl Sugar (about a cup) OR turbinado sugar
Instructions
Mix the flour, milk, yeast and citrus juice together until combined. With the mixture on high speed, beat in the butter, one slice at a time, until it's all incorporated. Wrap the dough well, and refrigerate overnight.
Preheat oven to 275 degrees.
Scatter the pearl sugar generously on a rolling surface, and roll out the dough to about ¼ inch thick, sprinkling the dough with more pearl sugar to keep it from sticking to the rolling surface or the rolling pin. Using a cookie cutter (Oval is the traditional shape -- I used a circle which got pushed into an oval when I transferred to the baking sheet, but I'd also use a pastry cutter to cut these into diamonds), cut the dough into shapes, and transfer them to a cookie sheet lined with parchment paper or silpat.
Bake for 30-45 minutes until "lightly golden" -- they will crisp as they cool. Enjoy! And while you're enjoying them with tea, get started on your next batch. You wouldn't want to run out.
Notes
Adapted from Second Helpings of Roast Chicken by Simon Hopkinson, who in turn adapted it from Roald Dahl's Cookbook