My father would have turned 69 last weekend.  Sixty nine doesn't seem that old to me – my grandmother is ninety three and still going strong – but in January, it will be five years since we lost him.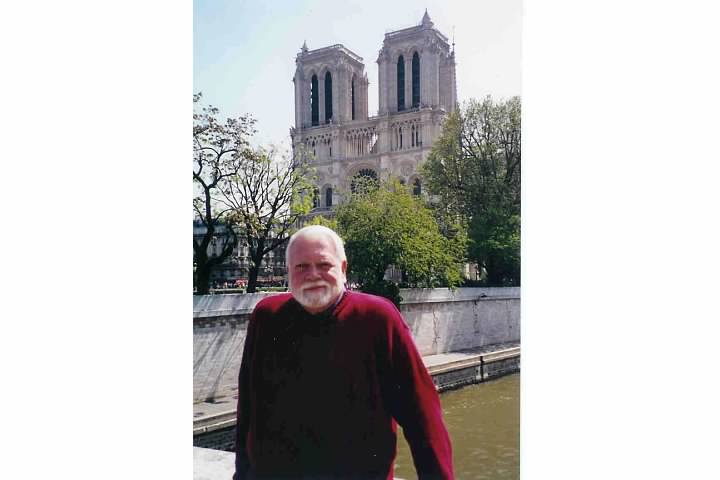 I say we lost him, but do we really lose the people who matter to us?  Yes, there are still some days when I want nothing more than to pick up the phone and hear my father's voice on the other end, but, even five years later, he looms so large in my mind that I feel like he's still here.    My father had Opinions – with a capital O – about what was important in life, and these are some of the things he taught me, that resonate today even more than five years ago, and that guide my thoughts and actions and my own Opinions.
That women in general, and my mom and I in particular, are just as strong, just as smart, just as capable and just as logical as any man, and that we can do anything we put our mind to.
That every morning should begin with a cup of coffee (French roast, milk and a little sweetener).
That Paris is the most beautiful city in the world.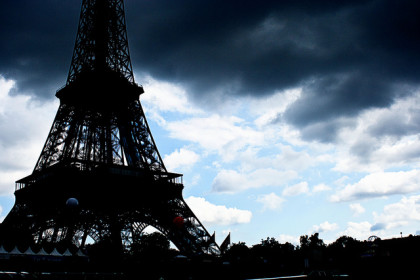 That there is one true stuffing.
That minorities, the downtrodden and the oppressed deserve equality and justice and understanding (my father, the whitest white male English professor of all time, was the one who introduced me to/made me read Alice Walker, Toni Morrison, Sandra Cisneros, Amy Tan and Richard Wright as a teenager).
That we should always err on the side of generosity (A brief illustration:  My parents' neighborhood is a destination neighborhood for trick or treaters, and they get over 500 kids on Halloween.  My mother, the pragmatist (and the bill payer), always wanted to get the discounted bulk candy, but my father recognized that a lot of the kids were from neighborhoods where it wasn't safe to trick or treat. "Get the good candy," he would say.  "These kids don't often get the good candy.")
That it's worth sacrificing your dignity to win the affection of dogs and children.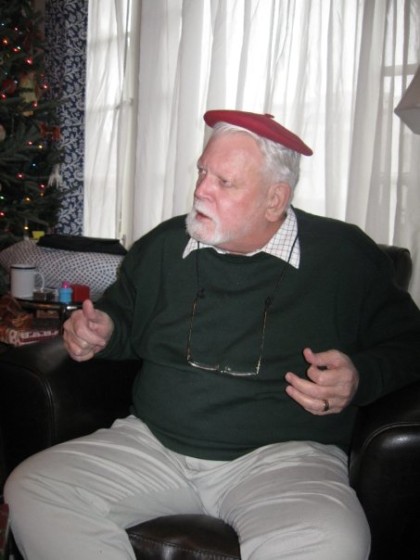 That a good mystery novel will always entertain you.
That Christmas should be celebrated with a capital C.
That if a joke (or anything) doesn't land, keep swinging until you have a hit.
That family is the most important thing.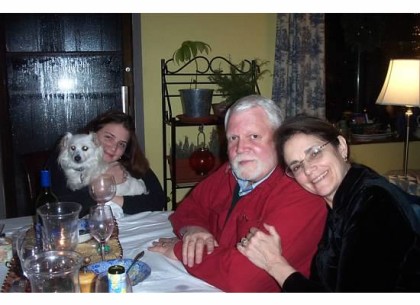 That you shouldn't put off living life until some future date (my father died at 64, but he saw the pyramids, and the fjords, the French Riviera, the ruins of Pompeii, the Empire State Building.  He met Bill Clinton and Margaret Thatcher and John Wayne and lived in Los Angeles and London and Florence and Paris and New Orleans.)
That gravy should be made with giblets.  Always.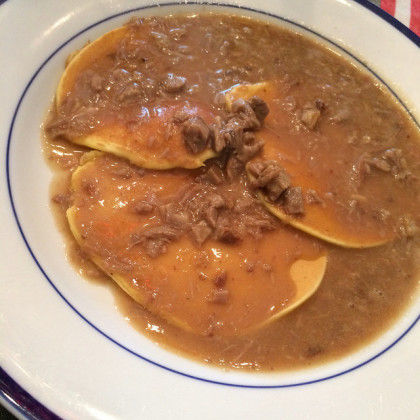 My mom is the gravy maker in our family, and she has kindly given me her method.  Giblet gravy isn't strangely brown and glossy – it's meaty and tastes like turkey – not like spices, or wine, or the myriad other things people put in their gravy to make it taste like something.  It's great on mashed potatoes, and wonderful on pancakes (our traditional Christmas morning breakfast, pictured above  – a "don't knock it til you try it" recipe).

Giblet Gravy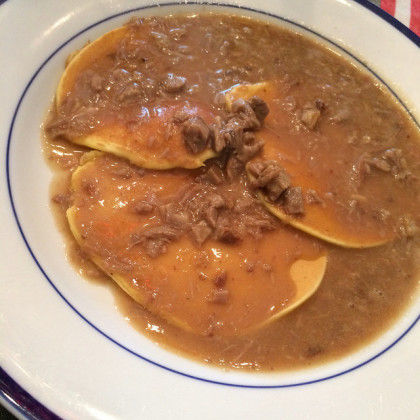 Ingredients
Giblets (neck, heart, gizzard) from 1 turkey
1 stalk celery
½ onion
water
salt
½ cup turkey drippings
½ cup flour
Instructions
Put the giblets, the celery, and the onion in a 3.5 qt. saucepan with a pinch of salt, bring to a boil, and keep at a low simmer for 2-3 hours, or until the giblets are tender. A few notes: turkey giblets often include the liver - this will overpower the gravy, so discard it (or cook it separately and feed it to the dog). You want to keep the giblets at such a low simmer that not much water evaporates - you could also try the crockpot for several hours. The endgame is that you want the giblets to be tender when pierced with a fork. Pull out the giblets, chop them finely, (removing the bones of the neck) and set aside. Discard the celery and onion, but keep the stock you've just made, which can be refrigerated until you're ready to use, but should be reheated to a simmer before making gravy.
When your turkey is done roasting, combine ½ cup turkey drippings with ½ cup flour in a saucepan, mix until there are no lumps, and cook for about 5 minutes, to lose the raw flour taste. Add warmed stock, beginning with 4 cups, add more until the gravy is the consistency you like. Just before serving, add the chopped giblets.