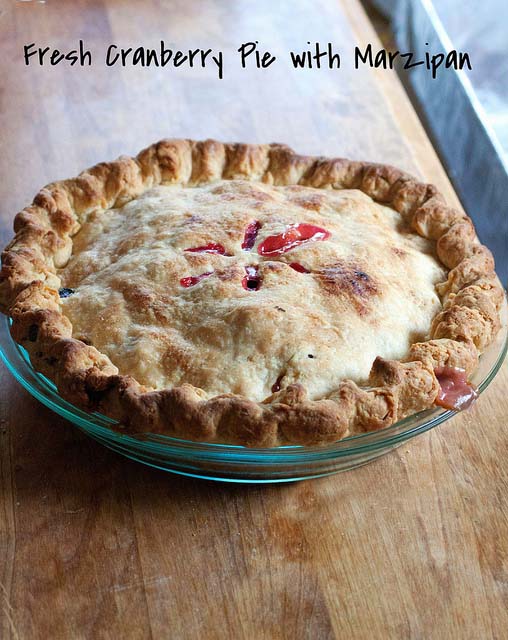 You guys!  I made this pie because I was looking for a double crust pie so I could revisit my pie crust tutorial (a few things have changed in my go-to technique since the last one I posted), and most of my fruit pie fruits are not in season, but now I'm kind of obsessed.  Fresh cranberries!  In pie!  Why is this not a thing?  Cranberries might be the perfect pie fruit — they're tart and juicy, but have a pretty high pectin content, so your pie filling doesn't run all over the place.   The flavor is a lot like fresh sour cherry pie, but fresh sour cherries are only available one week of the year, in very small parts of the US, and cranberries can be gotten EVERYWHERE for at least two months when most pie fruits are out of commission.    And just LOOK at the color:
It's great, is all I'm saying.
Now on to pie crust. I like to walk my readers through making pie crust, because I feel like so many people are like "Pie crust?  Who has the time for that!  It's too hard!" and I want to pat your head and say, "No, it's OK – you can do it."  You don't have to own a walk in freezer or live in the arctic to make your pie dough (though it is a bit tougher on a warm day.)  You don't have to source special kinds of lard or NOT TOUCH IT OR IT WILL BE OVERWORKED.  Pie crust is pretty forgiving.  If it cracks? Patch it.  If you can't roll it out in a perfect circle?  Nobody cares.  At the end of the day you will have pie, and people will love you.  This is the way I've been making my pie crusts, and it works pretty darn well.
Continue reading Fresh Cranberry Pie with Marzipan and How to Make Pie Crust