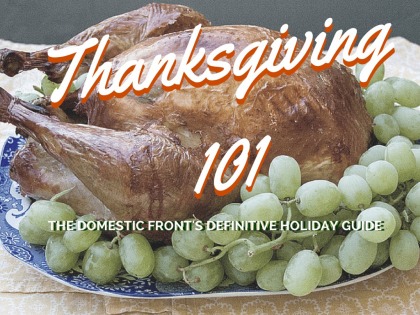 Halloween is over, and we've all recovered from our sugar highs (theoretically). I know you're  planning your Thanksgiving menu, so to make it easy, I collected the The Domestic Front Thanksgiving recipes into one easy place. The best, most foolproof, most delicious, juicy, crisp-skinned roast turkey? We've got that. Instructions on making your own pie crust (with a bonus recipe for silky smooth, perfectly spiced pumpkin pie)? You'll find that here. Here's the roundup of Thanksgiving recipes for your inspiration:
Turkey
You're serving vegetarians?
Quinoa Stuffed Acorn Squash
Kale and Cabbage Gratin
Butternut Squash and Goat Cheese Gratin
Onion Tarte Tatin
Kabocha Squash Stuffed with Delicious Things
Your favorite thing is, of course, stuffing:
Old School Sage Stuffing
Crockpot Cornbread, Leek and Bacon Stuffing
Sourdough Stuffing with Caramelized Onions and Chard
What vegetable side should you make this year? (see also, cooking for vegetarians, above)
Bacon Braised Brussels Sprouts with Cream
Creamed Kale
Creamed Spinach with Jalapenos
Slow Cooked Green Beans
Roasted Green Beans with Herbs and Scallions
Creamy, Spicy Sweet Potato Gratin
Sweet Potatoes with Gorgonzola Cream and Toasted Walnuts
Garlic Butter Glazed Carrots with Mint
Warm Farro Salad with Roasted Delicata Squash and Pomegranate
Roasted Parsnips
Light hors d'oeuvres before the main event?
 Lemon Rosemary Bagna Cauda
Roasted Garlic, Red Pepper and Goat Cheese Canapes
Sweet and Spicy Roasted Pumpkin Seeds
Roasted Brussels Sprouts with Romesco Sauce
It's not Thanksgiving without pie:
Maple Walnut Pie
Vegetarian Mincemeat Pie
Nesselrode Pie
Perfect Pumpkin Pie, and a tutorial on homemade pie crust
Rice Pudding Pie
Spiced Cocoa Buttermilk Pie
Fresh Cranberry Pie with Marzipan
Date Pecan Pie
You don't like Pie:
Cranberry Pecan Upside Down Cake
Sunday Night Apple Cake with Brown Butter and Bourbon
You're stuck with the cranberry sauce but you still want a chance to shine:
Spiced Cranberry Sauce with Oranges and Pecans
Make Ahead Cranberry Apple Chutney
You're on Salad Duty:
Arugula Salad with Persimmons and Gouda
Homemade Salad Dressing
Fennel, Apple and Pear Salad
You're keeping the relatives happy (aka mixing drinks):
The Perfect Manhattan
Champagne Cocktail
Aunt Helen won't let you set foot in the kitchen, but you still want to help:
Polishing Silver
Five Easy DIY Holiday Centerpieces
You're panicking: