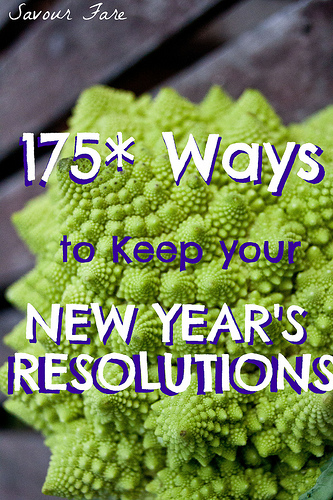 It's three weeks into January.  How are your new year's resolutions going?
I'm making a concerted effort to cut down on sweet and starchy things in my diet.  I know I have a crazy sweet tooth, and I'd love to get the best of that, so there have been lots of protein and vegetables in my life.  The good news is that, after a week or so, the sweet stuff seems a little less tempting. There are some days when I think I might kill someone for a brownie, though.
Chances are, you are reaching that point where everything doesn't seem new and fresh any more, and you're looking for some inspiration.  Well, you've come to the right place! Below is a list of The Domestic Front recipes that should provide some new resources and inspiration, whatever your resolution!

New Year's Resolution: Eat More Vegetables
Roasted Green Beans with Herbs and Scallions
Sourdough Stuffing with Caramelized Onions and Chard
Pasta with Butternut Squash, Spinach and Blue Cheese
Bagna Cauda
Egg and Vegetable Terrine
Broccoli Salad
Roasted Asparagus with Creamy Tomato Sauce
Garlic Butter Glazed Carrots
Salmon on Curried Spinach
Mushroom Leek Soup with Parmesan Garlic Toasts
Garlic Butter Mushroom Sliders
Meyer Lemon Kale Salad
Stuffed Kabocha Squash
Fennel, Apple and Pear Salad
Peach and Tomato Gazpacho
Homemade Salad Dressing
Cauliflower Soup with Bacon and Herb Garnish
Grilled Eggplant with Mint
Chopped Caprese Salad
Carrot Raisin Salad
Japanese Ramen Salad
Eggs Toscana
Curried Chicken Pan Roast
Corn and Tomato Pie
Soupe au Pistou
Grits and Greens Casserole
BBQ Chicken Chopped Salad
Sauteed Asparagus with Leeks
Kale Chips with Furikake
Endive Salad with Bacon
Beet, Blue Cheese and Bacon dip
Creamed Kale
Mashed Potatoes with Broccoli
Caesar Salad
Quinoa-stuffed Acorn Squash
Bacon Braised Brussels Sprouts with Cream
Arugula Salad with Persimmons and Gouda
Slow Cooked Green Beans
Squash and Cauliflower Salad with Salsa Verde
Zucchini Pancakes
Succotash
Creamed Spinach with Jalapenos
Roast Shrimp with Broccoli and Cauliflower
Butternut Squash Gratin with Goat Cheese
Carrot Pudding
Spring Pea Soup with Mint
Kale and Cabbage Gratin
New Year's Resolution: Cut the Carbs
Egg and Vegetable Terrine
Miso Pork Tenderloin with Apple Relish
Lemon Rosemary Bagna Cauda
Lemongrass Grilled Pork Tenderloin
Broiled Flank Steak with Cheese
Broccoli Salad
Roasted Asparagus with Creamy Tomato Sauce
Meyer Lemon Kale Salad
Sweet Potatoes with Gorgonzola Cream and Toasted Walnuts
New York Halal Chicken with Rice (skip the rice)
No Sugar Homemade Salad Dressing
Chicken Bouillabaisse
Cauliflower Soup with Bacon Garnish
Chicken Liver Mousse
Grilled Eggplant with Mint
Carne Asada
Provencal Grilled Chicken Breasts and Fennel
Spicy Sweet Potato Gratin
Grilled Brined Pork Loin
Parmesan Rosemary Chicken
Roast Chicken
Deviled Eggs with Capers and Parsley
Kale Chips with Furikake
Endive Salad with Bacon
Creamed Kale
Caesar Salad
Hot Clam Dip
Dry Brined Roast Turkey
Bacon Braised Brussels Sprouts with Cream
Slow Cooked Green Beans
Omelet with Goat Cheese and Mint
Belgian Chicken Stew
Creamed Spinach with Jalapenos
Peruvian Chicken
Roast Shrimp with Broccoli and Cauliflower
Ten Minute Thai Style Turkey
Sauteed Mushrooms

Shrimp in Whiskey Cream Sauce
New Year's Resolution: Cook family dinner
Pork Tenderloin with Apple Ginger Relish
Pasta with Butternut Squash, Spinach and Blue Cheese
Chicken Breasts with Goat Cheese and Pepper Jelly
Crockpot Pork Carnitas
Five no-fuss dinners for when you don't feel like cooking
Broiled Flank Steak with Cheese
Salmon on Curried Spinach
Ten Ways to use Rotisserie Chicken
Chicken Cobbler Pot Pie
Picadillo Tacos
NYC Street Meat Chicken and Rice
Homemade Salad Dressing
Chicken Bouillabaisse
Cauliflower Soup with Bacon and Herb Garnish
Toad in the Hole
Pulled Chicken Sandwiches with Apple Slaw
Carne Asada Tacos
Provencal Grilled Chicken Breasts and Fennel
Pretzel Crusted Chicken Breasts
Curried Chicken Pan Roast
Parmesan Rosemary Chicken
Easy Chicken Curry, by The Domestic Front.
Grits and Greens Casserole
BBQ Chicken Chopped Salad
Roast Chicken
Sugar and Spice Salmon
Maple Mustard Chicken with Goat Cheese and Arugula
Garlic Butter Noodles with Shrimp
Easy Slow Cooker Chili
Chicken Sausage Casserole with White Beans and Sage
Mom's Meatloaf
Baked Crab Cakes with Spicy Avocado Sauce
Shredded Chicken Tacos with Tomatillo Sauce
Spicy Turkey Sloppy Joes
Zucchini Pasta with Pine Nuts
Flatbread Pizzas with Fennel
Okonomiyaki or Japanese Pizza
Crockpot Thai Pork with Peanut Sauce
Belgian Chicken Stew
Black Bean Quesadillas
Supper Onion Pie
Crockpot Pot Roast
Roast Shrimp with Broccoli and Cauliflower
Stuffed Chicken Thighs
Easy Chicken Chilaquiles
Ten Minute Thai Style Turkey
Vietnamese Style Steak Sandwiches
Crockpot Carolina BBQ Pulled Pork
Crockpot Red Beans and Rice
New Year's Resolution: Pack lunch
Egg and Vegetable Terrine
Broccoli Salad
Meyer Lemon Kale Salad
Maine Crab Rolls
Gazpacho
Chicken Liver Mousse
Pulled Chicken Sandwiches with Apple Slaw
Japanese Ramen Salad
Pretzel Crusted Chicken Breasts
White Gazpacho
BBQ Chicken Chopped Salad
Deviled Eggs with Capers
Beet Dip withBacon and Blue Cheese
Meatloaf Sandwiches
Arugula Salad with Persimmons and Gouda
Squash and Cauliflower Salad with Salsa Verde
Zucchini Pancakes with Feta
Flatbread Pizzas with Chicken and Fennel
Crunchy Pea Salad
Panzanella
Homemade Hummus
Spring Pea Soup
New Year's Resolution: Meatless Mondays
Mushroom Leek Soup
Pasta with Butternut Squash, Spinach and Blue Cheese
Garlic Butter Mushroom Sliders
Squash Stuffed with Delicious Things
Japanese Ramen Salad
Eggs with Tuscan Kale and Balsamic Hollandaise (Eggs Toscana)
Pappardelle with Pumpkin Chile Cream Sauce
Provençal Vegetable Soup
Grits and Greens Casserole
Quinoa-stuffed Acorn Squash
Zucchini Pasta with Pine Nuts
Corsican Omelet
Black Beans Three Ways
Supper Onion Pie
Butternut Squash Gratin with Goat Cheese and Hazelnuts
Tortellini with Potatoes and Mint Pesto
Sweet Potato and Goat Cheese Lasagna
Kale and Cabbage Gratin
Crockpot Red Beans and Rice
New Year's Resolution: Eat Breakfast
Overnight Oats or Bircher Muesli
Pumpkin Pie French Toast
Egg and Vegetable Terrine
Oatmeal Breakfast Bars
Prune and Ricotta Breakfast Pudding
Eggs with Kale and Hollandaise
Ham and Cheese Baked French Toast
Deviled Eggs with Capers
Corsican Omelet
*Number inexact